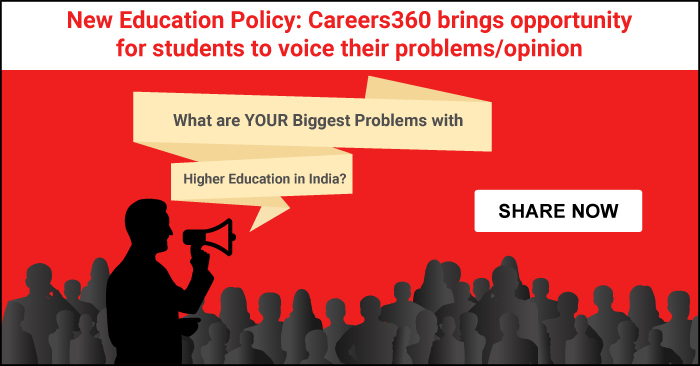 Do you want education policies to support you easily move from one institution to other along with your earned credit in the midst of your UG/PG programme? Do you really think that institutions must not be holding back your original documents during or after their admission process? Would you like all Indian universities and colleges to follow uniform admission calendar to safeguard you against the painful exercise of multiple admission procedures and fee payments?
The solutions lie in our New Education Policy. You can now raise your problems and voice your opinion as Government of India is drafting the New Education Policy. The HRD ministry is already conducting discussions at various levels in government and also consulting multiple stakeholders in the education domain.
We at Careers360, however, believe that the new education policy must address concerns of its largest stakeholders - the student community. Careers360 invites you to raise your voice on different aspects of the new education policy. We want your voice to be heard - Loud and Clear.
Towards this, Careers360 is in the process of compiling students' opinion to be presented to MHRD very soon.
We have identified a set of problems students face in course of their Higher Education. But there may be many more. One of those could be yours. So, take some time out and tell us what do you think are your biggest problems?
Click Here to Participate Now!
or
Fill the survey form on New Education Policy below:
The National Policy on Education was framed in 1986 and modified in 1992. Since then, several changes have taken place that call for a revision of the Policy. At Careers360, we endeavour to take your opinion to highest decision making body for the New Education Policy. Let this be a lifetime opportunity for you to participate in formation of this policy which is bound to influence both your academic and professional life!
Stay tuned to university.careers360.com for more updates on the New Education Policy.
Save