Vishveshwarya Group of Institutions (VGI) was established in the year 2000. It is affiliated to Dr. APJ Abdul Kalam Technical University (AKTU) and Chaudhary Charan Singh University (CCSU). VGI Greater Noida offers undergraduate and postgraduate courses in the field of Engineering, Pharmacy, Agriculture, Education, Law, Mass Communication & Journalism and Fashion Design. The courses offered at VGI are as follows: BBA, B.Tech, B.Sc, B.Pharm, MBA, LLB, M.Tech, etc. These courses are approved by All India Council for Technical Education (AICTE), State Board of Technical Education (BTEUP), Bar Council of India (BCI), Pharmacy Council of India (PCI) and National Council for Teacher Education (NCTE).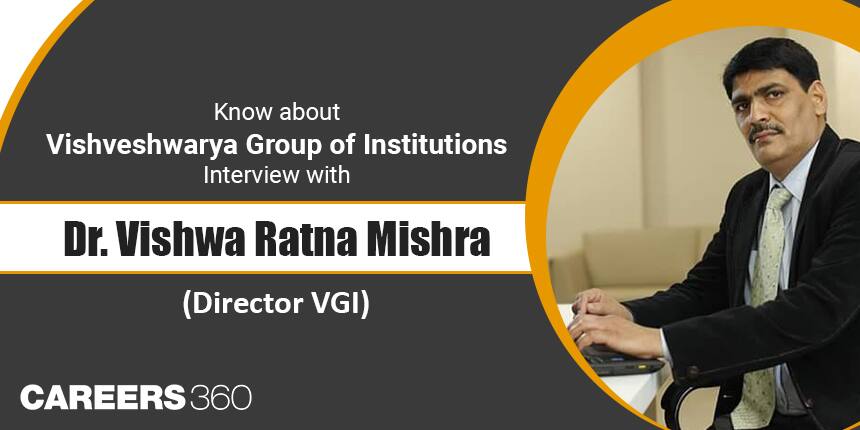 Know about Vishveshwarya Group of Institutions: Interview with Dr. Vishwa Ratna Mishra (Director VGI)
Careers360 brings you an interview with Dr. Vishwa Ratna Mishra, Director Vishveshwarya Group of Institutions Greater Noida. In his interview Dr. Vishwa Ratna has shared various details about VGI Greater Noida vision, mission, programmes, admission process, internships, placements, facilities, etc. He has also answered questions related to Vishveshwarya Group of Institutions campus life. To know more about the institute go through the complete interview of Dr. Vishwa Ratna Mishra with Careers360.
Careers360. Tell us something about the institute; when it was set up, its vision, and mission.
Dr. Vishwa. For me Vishveshwarya is not an institute, it is a belief in becoming something in the crowd. Vishveshwarya group of institutes popped into google in the millennium and since 2000 the institute has never looked back. The institute has remained devoted to the mission set up for pioneering a strong future for the nation. We work incessantly on the mission of:
Creating an environment for multidisciplinary education where students can execute tasks involving expertise in multiple domains.

Imparting cross-cultural and ethical training through the execution of projects created for solving socio-cultural issues.

Providing training that suits the globally competitive environment.

Increasing outreach for financially deprived and geographically isolated talents.
and the successful attainment of our mission is ensured by the rock-solid vision which is to evolve as an Institution creating competent professionals with strong ethical values who can exhibit multidisciplinary skills in a globally competitive environment.
Also Read: VGI Greater Noida courses & fees
Careers360. Tell us something about the admission process?
Dr. Vishwa. Admission is a crucial process both for the institution and the students. It is like getting into a new relationship where the institute, like a patron ensures the successful career of the students. And to do so we have various courses under the affiliation of Dr. APJ Abdul Kalam Technical University (AKTU), CCSU, and BTE. Our Institute follows the norms of affiliated universities, apart from it we conduct our own tests and students' interaction for direct admission. The eligibility requirement of minimum marks and other relevant criteria for different courses are available on the college web page
Careers360. What kind of infrastructure can students expect at the institute? Please elaborate?
Dr. Vishwa. To be precise and accurate I will quote the infrastructure of the college as comfortable, rooted to reality, filled with the social and academic needs. The learning environment has excellent and relevant infrastructures like presence of the latest configuration in our computer lab., research lab to provide hands on experience to the students of pharmacy, state of the art data science lab in Management dept. huge infrastructure for research pertaining to agriculture and other science courses. For out-reach and personality development we have the provision of a language lab. The facilities like playground, sports facility, are at par with the norms, excellent training infrastructure as well as soft skill training are there to provide extra edge to our students' holistic grooming. We ensure the easy availability of stationery within the campus, medical facilities are always under check and quite filled as per the requisition without least of the compromise. What I am personally fond of and proud of is the caring approach of our institution towards nature. The maintenance of greenery and cleanliness act as the tranquilizer for everyone inside the campus.
Quick Link: VGI Greater Noida cutoffs
Careers360. There is a lot of stress that is being made with regard to interaction with the industry as well as companies that recruit. What are the steps being taken by the institute in this direction?
Dr. Vishwa. Stress of competition and getting placed is not a new thing, this has been an history which will continue till posterity, our purpose is not just to make our students get into the companies rather we focus on root level grooming and wide exposure, through the events like college fest, career fest, mock interviews and campus interviews, industrial visit, and placement interactions with corporate experts we prepare our students about what all is going in the outer world, how the world is reshaping and most importantly what is contemporary concept of professionalism.
Careers360. Internships are now mandatory as per AICTE guidelines. Does the institute help students with this? If yes, how?
Dr. Vishwa. Academics loses its cause of existence without direction. Internships are those directions which allow the students to have hands-on experience of the professional world. Moreover they got to know what all companies are looking for in the candidates as their employees. We are VGI are the flag bearers of this ideology hence internships are taken too seriously and sincerely. The corporate resource centers ensures the excellent support for internships and training programme in collaboration with industries of repute
Check This: VGI Greater Noida reviews
Careers360. Can you please share details if there is any collaboration with universities abroad?
Dr. Vishwa. The world of education is about better exposure and opportunities and the Vishveshwarya group clearly proclaims it in her vision and mission. VGI is about to collaborate with universities overseas, at present the disclosure of the names will not be ethical.
Other Links: VGI Greater Noida facilities
Careers360. Please share placement statistics with information on the average package, highest and lowest package, number of students placed and details of companies that have recruited.
Dr. Vishwa. I strongly believe in education with a purpose and social responsibility. The youth whom we cater to are actually the raw material of fathom of human skill. Hence, primarily we focus on recruitments and placements. VGI students are at topnotch companies like GENPACT, TECH MAHINDRA, COCA COLA, BYJU's, SPECTRA are a few. For Management students and core technical engineering students placement record is 100 % with median package of Rs 4.96 LPA and the highest is Rs 10 LPA. For polytechnic 100% placement with median package of Rs 3.02 LPA and highest package of Rs 7 LPA. To mention specifically for pharmacy students the placement is about 70% with a median package of Rs 4.80 LPA while the rest of our students in pharmacy are entrepreneurs. In the coming years too I vision many of our academic prodigies working at various reputed companies.
Disclaimer: This content was distributed by Vishveshwarya Group of Institutions Greater Noida and has been published as part of Careers360's marketing initiative.
Other Popular Institutes: