JNU Sample Papers 2022 - Aspiring candidates of JNUEE 2022 can practice JNU 2022 sample papers available for multiple programmes. Practising JNU sample papers will help candidates to prepare well for the upcoming entrance exam and enhance their level of preparation. To get a transparent idea of the JNUEE 2022 candidates must practice JNU sample papers 2022 and enhance their preparation and increase their chance to ace the exam. In addition to helping candidates manage their time according to the questions, JNU 2022 sample papers are designed to help candidates to excel in the exam. Aspirants can make themselves familiar with hundreds of questions being asked by Jawaharlal Nehru University over these years as well as strategise their solving skills in a short period of time with JNU sample papers 2022.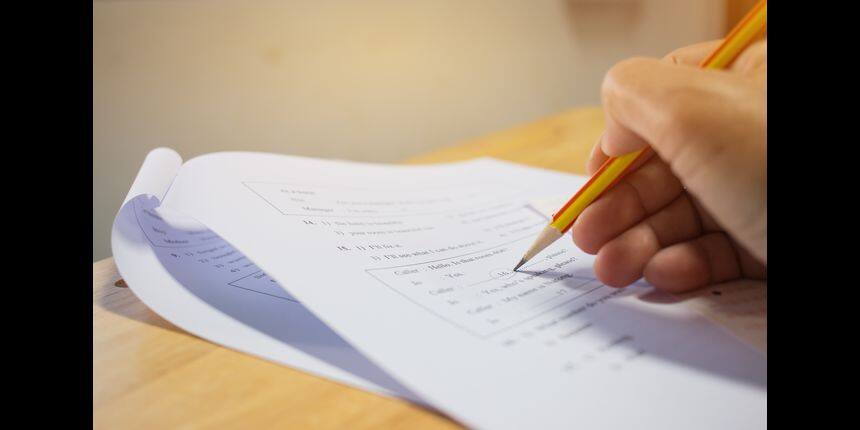 JNU Sample Papers 2022, 2021, 2020, 2019 - Download JNUEE Question Paper
How to download JNU 2022 Sample Papers?
The National Test Agency will be responsible for releasing the JNU 2022 sample paper in online mode. A large number of JNU sample papers 2022 are available online. However, if aspirants are looking for a website that has a comprehensive collection of JNUEE question papers, then they can visit Careers360's website. Listed below are the steps candidates can follow to check the sample papers on our official website.
Steps to download the JNU 2022 Sample Papers
Step 1. Click here to visit the official link of Careers360 sample papers
Step 2. Now Login/Register for Careers360 account through either Facebook/Email ID/Google Account
Step 3. Select 'JNU Sample Papers' from the options given on the left side
Step 4. Select the 'Download' button
Read more -
Advantages of JNU Sample Papers 2022
Applicants can get a basic understanding of the topics and questions they might encounter in the exam.

The number of questions, duration of the exam, and sections for each subject can be determined for each subject.

It will teach candidates how to strategize and manage their time effectively.

As candidates practice the JNU 2022 sample papers, their accuracy and speed will improve

Candidates can strengthen their preparation by practising questions from JNU sample papers 2022 that are replicas of questions of the original exam.
Colleges Accepting CUET 2022 Score
Download list of Colleges Accpeting CUET/CUCET 2022 Score with Cut-OFFs
Download Now
JNU Previous Years Question Papers
Given below are the PDF files of the JNU sample papers that candidates can go through if they are seeking to pursue UG and PG programmes from the university.
JNU Previous Years Question Papers - UG Courses
| | | | | |
| --- | --- | --- | --- | --- |
| Courses | 2018 | 2017 | 2016 | 2015 |
| B. A. (Hons.) Chinese/Japanese/Korean | | | - | |
| B.A Hons. German/ Russian/ French | | | - | |
| B.A Hons.Arabic/ Persian/ Pashto | | | - | |
Student Also Liked:
Online Degree and Diploma Courses
Online Free Courses and Certifications
Online Short Term Courses and Certifications
View all Online Courses and Certifications
JNU Previous Years Question Papers - PG Courses
| | |
| --- | --- |
| Courses | 2018 |
| M.Sc Molecular Medicine | |
| M.Sc Physics | |
| M.Sc Chemistry | |
| M.Sc Life Sciences | |
| M.A Sociology | |
| M.A Political Science | |
| M.A Ancient History | |
| M. A. in Mediaeval History | |
| M. A. in Modern History | |
| M.A Economics | |
| M.A Geography | |
| M.A Philosophy | |
| M.A Arts and Aesthetics | |
| M.A Development and Labour Studies | |
| M.A Politics with Specialisation in International Studies | |
| M.A International Relations and Area Studies | |
| M.A Economics with Specialisation in World Economy | |
| M.Sc Environmental Studies | |
Also Read:
As you sit down to practice for the exam, it is vital to know the JNU 2022 exam pattern. They can learn what topics and marks will be given priority, the duration of the exam, and the maximum mark. Hence preparing a meticulous strategy which includes JNU exam pattern 2022 will help candidates to score better.
JNU 2022 Exam Pattern
| | |
| --- | --- |
| Mode of Exam | Online |
| Duration | Three hours |
| Total Marks | 100 |
| Number of Questions | Depends on the sections |
| Medium of examination | English (Unless specified otherwise) |
| Marking Scheme | Negative marking of One mark will be applicable for every wrong answer depending on the subject |
Popular Online Arts And Crafts Courses and Certifications
Before taking the JNU entrance test, candidates must familiarise themselves with the JNU 2022 syllabus in order to know what topics and subjects will be covered. It is imperative to note that the JNU syllabus 2022 will be different for each programme. Therefore, candidates should check the JNU 2022 syllabus of the courses they are interested in. Candidates can plan, strategise, and focus their studies on the important topics with the help of JNU syllabus 2022. Thus, they will be able to prioritise their subjects and topics accordingly.
JNU Mock Test 2022
JNUEE candidates must take the JNU 2022 mock test to gain an understanding of how the online examination works. In addition, candidates are welcome to visit any NTA test centre to experience the test first-hand. This is done mainly to familiarise candidates with the online examination and to ensure they are not nervous.
Click here to practice the JNU mock test