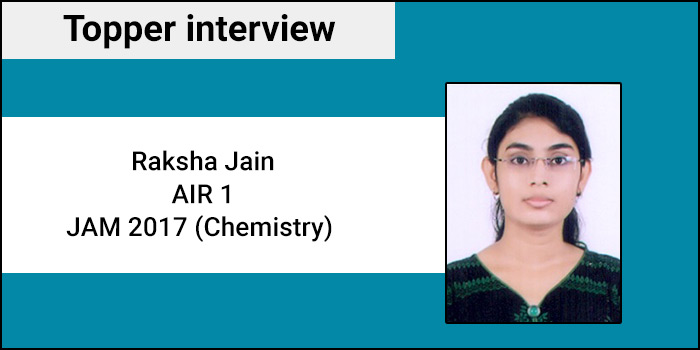 Following her passion with a quest for knowledge and sincerity towards achieving the goal, Raksha Jain secured AIR 1 in JAM 2017 Chemistry with a score of 86.02 out of 100. Sharing that she wanted to make her parents proud on earning a prestigious IIT seat, she says admission in Indian Institute of Bombay (IIT-B) was always on her priority and planned her JAM preparation accordingly. The JAM 2017 topper also shares that her experience with Joint Admission Test for M.Sc. programmes (JAM) was quite good as she found the overall question paper moderate. Raksha, fond of reading books and an avid music-lover, explains the importance of short breaks during preparation for JAM in this interview with Careers360.

LATEST - JAM Application Form 2018 has been released, Apply now!
Admissions Open Now
Manipal Academy of Higher Education
Admissions 2019 OPEN | MAHE #1 Private university in India QS world Ranking
Raksha Jain, a meritorious student securing over 90 per cent marks during her entire academic journey, tells that she had developed an inclination towards Chemistry in her Senior Secondary School. Sharing her JAM preparation strategy, the AIR 1 told that a sincere and consistent self-study for hours helped her in qualifying the IIT postgraduate science entrance exam.
Read the JAM topper tips on How to prepare for Chemistry paper of JAM.
Excerpts of Interview
Careers360: Congratulations on your JAM success! Was an M.Sc. from IIT Bombay on your watch?
Raksha Jain: Yes, IIT Bombay was always my first preference. Studying in IIT Bombay has been my dream since 11th standard.
Careers360: What made you appear for JAM? Where do you see yourself in the five years down the line?
Raksha Jain: I followed my passion and studied Chemistry even as stepping out of the crowd of engineers and doctors. To study in IIT is always a matter of pride of every science stream candidate. I have seen the happiness on the face of those parents whose child is studying in IIT and I wanted the same for my parents. I was well aware of Masters programme in IIT and this made me appear for JAM.
Careers360: Share your study plan and strategy beginning from the first phase of your JAM preparations.
Raksha Jain: Honesty, sincerity and hard work are the key points which helped me in my preparations. I am a girl who loves reading books. During my graduation, this habit helped me in going through a lot of books and helped in the conceptual clarity of different topics. This resulted in an easy preparation for JAM. I had begun my JAM preparation from Physical Chemistry where I revised each and every topic and solved as many questions as I could, related to the topics.
Then I would switch to Organic Chemistry where I completed the basics first, before focussing on Inorganic Chemistry. It became difficult to manage between my college and JAM preparations simultaneously, therefore I used to utilise my weekends for the preparation.
Careers360: Which important topics should be focused on Chemistry paper? Which books did you refer during your JAM preparations?
Raksha Jain: All the topics are important as nobody ever knows where the question will be asked from. I would suggest the students to cover all the topics especially the theoretical topics including analytical chemistry, bio-inorganic and natural products. These are the exclusive topics which a JAM aspirant often ignores and surprisingly the scoring questions do come from these topics also.
Careers360: Did you take coaching? What role did coaching play in your success? How should a JAM aspirant study if he can't afford coaching guidance?
Raksha Jain: Yes, I took coaching guidance in the fourth semester. It was a one-year program where classes were held on weekends. I would here say that their guidance helped me in qualifying JAM. The mentors helped me with providing right materials and suggesting ways to improve my weaknesses.
If a student is sincere and hardworking then he/she can crack JAM without any such help of coaching institutes. All one needs is to clear concept and practice as many questions as possible and give online mock tests.
Careers360: What are the specific activities that helped you in unwinding yourself during your hectic preparation schedule?
Raksha Jain: After long hours of my routine study plan, I used to take short breaks, blend coffee and listen to music. Also, during the evenings and nights, I generally preferred walking outside, talking to some of my close friends, family and reading books.
Careers360: Describe your experience with JAM paper? What was your strategy on the testing day? Also, share your anxiety on the exam day and how did you overrule that?
Raksha Jain: It was a very good experience for me. I did not go with a prior plan and attempted the sections in the order of appearance. Moreover, I did not stick to a particular section and moved to and fro to solve questions from each area. I reached the exam venue as many as three hours before and relaxed outside the exam centre. It made me calm and composed for the entrance exam.
Careers360: How did solving previous years' question papers contribute to your success?
Raksha Jain: Solving previous year question papers helped a lot as it gave me a general idea about the type of questions. It gives you an idea about the pattern of the examination and at the same time, it improves your speed and accuracy in solving the questions. This thing helps in the JAM and makes aspirants to score high marks. It would even boost confidence level and help in qualifying JAM.
Careers360: Specify the importance of an online mock test? How many mock tests did you take and also share when aspirants should begin appearing for JAM mock tests?
Raksha Jain: Most importantly, practice tests tell candidates which topics they have not mastered and encourage them to focus learning on the weaker topics. The practice tests will also reduce test anxiety.
After finishing the topics I began taking mock tests as I feel that it's the apt time to plan such tests. The mock tests also keep candidates aware about their performance vis-à-vis others. JAM aspirants need to take weekly and monthly tests which help them in constantly analysing their improvement areas. Mock tests also help in honing over time management skills.
Careers360: While preparing for JAM, which topics did you find tougher over others? How did you overcome your weakness?
Raksha Jain: Organic Chemistry was tougher than Physical and Inorganic. I started studying Organics from the level 0 and first tried to clear the basic concepts of the subjects by reading as much as I can.
Careers360: Being a topper, which section would you suggest the future JAM takers attempt first, followed by the other sections.
Raksha Jain: There are three sections in JAM paper. JAM aspirants can begin attempting any section which they want. I attempted the JAM questions in order of their appearance and did not waste time on choosing a particular question, to begin with. It's always easy to begin with one section, going through each and every question, solving them and moving onto the others.
Careers360: What advice would you like to share with future JAM aspirants?
Raksha Jain: I would suggest them to remember the three keys to success–honesty, sincerity and hard work during JAM preparations. Clear your concept and solve as many questions as you can. Be calm and composed all the time.
All the best for JAM 2018
Stay tuned to university.careers360.com for IIT JAM Topper Tips
Get real-time alerts on exam & colleges at your fingertips with Careers360 App!
Click Here to install or Give a missed call on 08080944727 to get app link.
Related E-books and Sample Papers