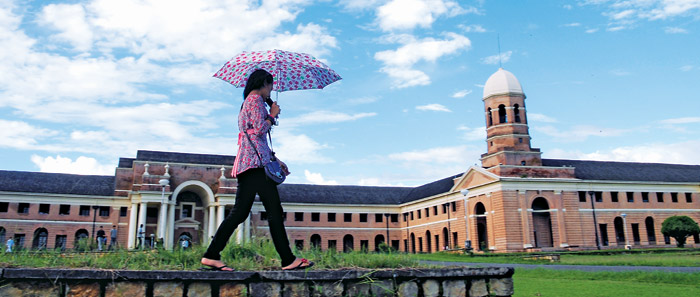 "A University stands for humanism. For tolerance, for reason, for the adventure of ideas and for the search of truth. It stands for the onward march of the human race towards ever higher objectives. If the Universities discharge their duties adequately, then it is well with the Nation and the People."
 - Pandit Jawaharlal Nehru
LAST year, there were 694 universities. This year, the number swelled to 742. India clearly is a nation in a hurry when it comes to setting up of universities. We have created 250+ universities in the last five years. Sam Pitroda, chairman of National Innovation Council wants 1500 universities. If we keep up the pace we might actually touch the figure in the next five years, if not less. But the moot question is, are these universities fulfilling their objectives? Are they discharging the lofty mandates that the country bestowed on them?
Assembling the data
We began by updating our database of universities and from September 2013, with a team coordinating the filing of over 1500 RTI applications to 214 select universities. The next few months were spent on collating this data. An independent research team focused on gathering the data on publications, citations and also the patents.


Rating Criterion Across domains
| | | |
| --- | --- | --- |
| Rating | Score Range | Description |
| AAAAA | 95 - 99 percentile | Exceptional |
| AAAA+ | 90 - 94 percentile | Outstanding |
| AAAA | 80 - 89 percentile | Very Good |
| AAA+ | 70 - 79  percentile | Good |
| AAA | 60 - 69 percentile | Above Average |
| AA+ | 50 - 59 percentile | Fair |
| AA | 40 - 49 percentile | Average |
| A+ | 30 - 39 percentile | Pass |
| A | Less than 30 percentile | Improve |
Our task was complicated by the fact that the Ministry of HRD or UGC do not list out the university-level institutions that come under other ministries like Agriculture, Health & Family Welfare, Textiles, Labour etc. Some select medical institutions like Nizam's Institute or Sanjay Gandhi PGI also slip off the radar since they come as specialized institutions under respective state governments. It took us months to assemble the complete data.
Cities with Maximum Universities

New Delhi

27

Jaipur

25

Chennai

22

Bangalore

19

Kolkata

18
How we rated the universities 
World over universities have been rated based on Teaching, Research Output, International Outlook, Citations, and Industry Income. Barring Research Output and Citations, it is almost impossible to get information on other parameters for Indian Universities. So we used the publication record from Web of Science, Patents (both granted and applied), NAAC rating score and also used the student-faculty ratio as a proxy for teaching effectiveness. You can read more about the same in the following pages on methodology. 
What do we offer?
The cover package offers two data sets, a ranking of India's outstanding 100 universities and a rating of 200+ universities across verticals namely, Multidisciplinary, Engineering, Medicine and Speciality. And where ever possible we have grouped the institutions as Public and Private.


The top position is taken by Indian Institute of Science, performing extraordinarily well in Output, Learning, Productivity and IP. But interestingly its academic output does not reflect well when it comes to Impact. Citation counts of IISc are quite low compared to the other performers. And the Top 10 positions are completely dominated by the IITs, with only University of Delhi and Panjab University sneaking in. The big takeaway that we offer is that if the IITs compete as a single entity, India can easily be present within the Top 75 institutions globally (read separate feature on IITs).
key things to note
Only degree granting institutions formed under an Act of Parliamentor State Legislatures are included.

Only those institutions formed after 1.1.2009 have not been considered for ranking (see a separate feature on Emerging Universities with Potential in this issue)

The ranking includes 70 top Public and 30 Private universities

In addition to ranking, universities have been rated on the basis of subject offerings. They are categorized in five sections: Multidisciplinary (Public), Multidisciplinary (Private), Engineering, Medicine, Agriculture & Allied and Specialized Universities. We have included more universities in the rating list.

Institutions that did not meet the minimum criterion for at least two of the five parameters due to data insufficiency were excluded from the ranking exercise. This was done as it would adversely affect their true standing in the rank. For example Tata Institute of Social Sciences and Symbiosis International University are both quality institutions, with a high NAAC score, but both did not have any IP in the Indian IPR database.
Output and Impact are not directly correlated 
Only 3 of the Top 10 players with good publication record have correspondingly high citation levels. In fact the reason why Panjab University figured in the THE ranking is because its citation score stands at 5.4 per paper, the second highest in the country. So what does the data tell us? Publications have caught   the fancy of the universities. With the increased focus on international ranking, universities publish more. But not many of them are really into high impact research. And that is a frontier that they need to scale.
Research is not everybody's cup of tea
The ranking conclusively proves that research is still elitist. As one moves down the ranking scale both productivity and aggregate publication count drop drastically. Beyond the Top 25 players, the number of papers per faculty is in decimal numbers. As faculty productivity conclusively proves, even in the next 25 universities of the Top 50 Research Universities List, a single faculty member accounts for over 5% of the total output of the institute. In other words, even in top research universities, the number of academics active in publishing are quite limited. In fact, the faculty productivity is above 1 per faculty only in the smaller universities. This does not augur well for the nation with superpower ambitions, at least in the knowledge domain.
Dr Anurag Behar,
Vice Chancellor, Azim Premji University
"It can't be a for profit investment"


Q. What according to you is a world-class university?
A. I think this is not a very relevant notion, what is important is that are they high quality universities? High quality universities have academic excellence, which comes from good research, good teaching and direct engagement with the outside world.
Q. How can Indian higher education system become more robust?
A. I think higher education system needs more public and philanthropic investment, it is very, very critical; it should not be for profit investment. The second important thing is that universities should have an autonomous structure; the Indian regulatory structure should ensure that there is much more autonomy granted to universities.
Q.  What are the problem areas you find most daunting for students?
A. Presently only those who can afford it have access to higher education. A very large percentage of population does not have access. Going to colleges not only requires fees, there are other expenses. The second problem is that a large number of colleges have proliferated which are doing very poor quality teaching and no research, they are basically teaching shops. In such cases students get a shoddy education. 
Teaching remains our mainstay 
Nearly 50 universities of the Top 100 are there primarily due to higher NAAC rating, whose scores for research output and citations are minimal. But the reasonably high NAAC score does prove that most Indian universities, even at the top level remain good teaching schools. Yet another factor that stands in good stead for these universities is better student-faculty ratio. Nearly 80% of the universities for which we could get data have a S/F ratio of less than 20 and a good 40% have it less than 10. So Indian universities have a large untapped admission potential, and even with the existing faculty strength, a 50% increase in seats could be easily envisaged. Medicine could be a priority here.


UNIVERSITIES' NAME FAME
15 with 'Guru', 7 with 'Acharya'
11 with 'Ambedkar'
9 with 'Nehru'
8 with 'Krishna'
8 with 'Maharaj', 2 with 'Rani'
8 with 'Rajiv Gandhi'
7 with 'Maharishi'
6 with 'Mahatma Gandhi'
6 with 'Indira Gandhi'
Cracking the patents game
Making money from knowledge has never been the focus area for Indian universities. The scenario is changing, but very slowly. Only half of the top 100 schools have any patent activity (they might be filing in foreign countries). Just about 8 have filed over 50 patents and about 25 have over 10. The scenario with respect to granted patents is worse. Only abut 10 universities have over 10 granted patents. The system needs to go on a very high gear to be anywhere near the global standards.
Rating the institutions
The 200-plus universities that crossed a threshold of a minimum quality standard were considered for rating. We have grouped then into five domains as discussed in the methodology and the multidisciplinary and engineering-focused universities have been further subdivided into Public and Private, based on their ownership.
Where do we go from here?
For the first time in the country we have attempted to use a diverse set of representative indicators, and a complex algorithm to rate and rank universities. Both the data sets and the methodology could do with lots of changes, additions and improvements. While we are fairly confident about the outcome, the discriminating power of the data set is even now not our satisfaction. We would like to make the evaluation much more in depth, qualitative, transparent and inclusive in the coming years. Your comments, critiques and advice are most welcome.