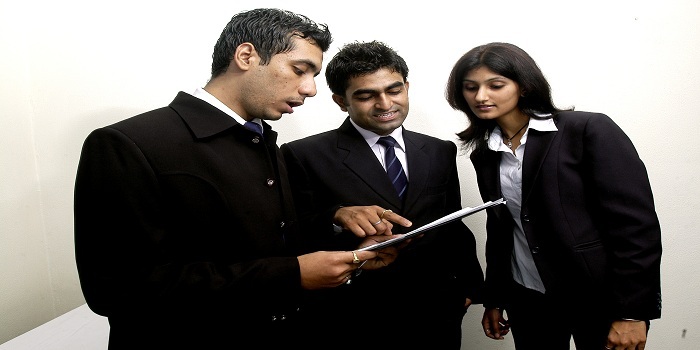 Jasleen Kaur Taneja, 28 Sep 2017
The corporate sector needs job skills that are not offered in colleges. Are these skills essential? How do they make you job-ready? Careers360 brings you an article which speaks to you on skills needed to become job ready. Read the article below to know what makes you ready for your next venture in your life.
During graduation, one looks forward to cracking placement interviews and working in an MNC. But settling in a new organisation requires much more than just an engineering or management degree. One has to communicate with fellow employees, work in a team and as a team, work on projects, accomplish tasks and much more.
Gather information
After cracking the interview, one should explore more about the company he/she is going to join. The vision/mission statements on the official portal is a good place to begin with. If possible, one should get acquainted with an employee from the organisation who can give you an accurate picture of the work culture and ambience. Searching for the job profile gives you an idea as to what roles you are expected to play post joining.
Communication is the key
Most of us have no trouble talking, but not many of us can effectively get our message across, especially when communicating in the workplace. Practising effective communication skills goes a long way in creating a good impression. Himanshu, a Product Management Trainee at Germany-based Rehau, a polymer manufacturing firm, says, "When I joined as a fresher, I was worried how my senior colleagues would treat me but they made me comfortable. I polished my soft skills to make a first impression and it really helped."
On-Job-Training (OJT)
Companies usually make a fresh employee undergo on-job-training (OJT). Here, one learns the job in the actual working condition and the training is specific to the job to be taken up. In a typical situation, the manager explains a process to the trainee and then demonstrates it. For instance, at huge retail stores, the store manager acts as a trainer. The trainee then carries out the process under the manager's supervision. Once the trainees are seen competent, they then carry out the process unaided. "I learnt about my work during the initial months here. I feel that one should not focus on scoring cent per cent during graduation but rather work on increasing knowledge via the internet and by talking to people. Having domain knowledge and building confidence takes you places and I truly gained all that during my training," added Himanshu.
Why OJT?
As stated in a study by IBM on 'Upskilling India', fresh graduates do not meet industry requirements and thus are needed to be trained.
Young graduates entering the workforce are not equipped with the life skills they need to qualify as employable. "There is a clear gap in the industry expectations and what the higher education institutes offer. Colleges and universities can help fill this gap by bringing in changes in course curriculum and by bringing more industry exposure & alignment with technology which is prevailing in an industry," said Gaurav Jhala, Business HR – CVBU North, Tata Motors Limited, Delhi.
The reason for this void could be attributed to the single-dimensional, textbook-heavy style of education. Academic institutions can work in greater coordination with the industry to address this issue. "India is caught by both a skill gap and a higher education sector struggling to keep up. That is why it is critical to take proactive measures to transform the higher education system to create a new model that better aligns with industry imperatives," said Dilpreet Singh, Vice President and Head - HR, IBM India/ South Asia.
OJT Methods
In most companies, on-the-job training for new employees begins with an induction programme meant for making new employees aware of organisation's culture, policies, procedures and interaction with each other. Post induction, they are sent for OJT.
Companies follow different methods for training new employees:
Job rotation: This training involves the movement of the trainee from one department to another to acquire receiving job knowledge and experience from his supervisor or trainer in each of the different job assignments.
Coaching: Under coaching, the trainee is placed under a particular supervisor who functions as a coach and trains the individual. The trainee then receives feedback from the supervisor and suggestions for improvement.
Job instruction: Also known as step-by-step training, here the trainer explains the trainee the job profile, imparts job knowledge and skills and allows him to do the job. Joe Killick, pursuing his OJT at Tata Consultancy Services, said, "The initial learning program was aimed at preparing individuals to work on real projects, with the help of work related activities and mock-up systems. There were also various examinations at the end of each prepared module, each with its own set pass mark and grading criteria."
Committee assignments: Under the committee assignment, a group of trainees is given and asked to solve an actual organisational problem. The trainees solve the problem jointly fostering teamwork. Speaking of the method used for OJT at Tata Motors, Jhala explained, "We take graduate engineering trainees through 1-year on-job-training where they work in a production environment on a specific project reviewed from time to time. PGTs (Post graduate trainees) undergo 6 months on-job-training."
Understudy: It is a method where the trainee works directly with a senior manager or with the person he or she is to replace; the latter is responsible for the trainee's coaching. It requires the outgoing manager to train the incoming employee, so that he can be relieved of his daily responsibilities and tasks.
Apprenticeship: This method combines classroom education with on-the-job work under close supervision. The training curriculum is planned in advance and conducted in careful steps. The period of this training usually lasts for three to four years before an apprentice is considered accomplished.
Upskilling: Apart from undergoing training soon after joining, many companies urge their employees to upskill themselves in order to match the industry standards. "Skill is emerging as the new currency across businesses globally and in India. Today's rapidly evolving economic environment makes upskilling an imperative across job profiles and sectors," added Dilpreet Singh.
Therefore, preparing before joining any organization helps one familiarize with the new environment he/she would work in, thereby reducing the time taken to 'settle down'. Moreover, OJT helps in imparting skills necessary to perform a job by new recruits and results in effective employee development. It helps in honing the skills of the fresh recruit, thereby helping him to be in sync with his peers.
Q&A
Learning skills by doing
Prof. C.P. Shrimali,
Acting Director,
Careers360: Why is there a gap between industry needs and student quality?
Shrimali: In all good academic institutions, it is very much a part of their education system that students carry out 10–15 live projects before they go to the industry. So, they do not require any kind of extra industry attachment. In fact, they become functional the day they join. But, there are a large number of institutions experiencing faculty shortage which makes it a very serious challenge in our country. So, when the students are not industry ready, the industry has no option but to put them on training.
Careers360: Can our curriculum be the reason for the gap?
Shrimali: Almost all leading B-Schools, including IIMs, have a very structured system of review of their curriculum and it is very much aligned with the industry requirements. This is the reason they get 100 per cent placements. But there are some institutions that are not able to prepare students for industry and curriculum is also not updated, then naturally industry has to train these people according to the requirements.
Careers360: What are the changes that are needed to produce 'job-ready' graduates?
Shrimali: Amazon and Snapdeal were not there in the past. Now, look at the way products are being sold on web, the way automated plants and robotic machines are used for production with very few people. I think the way businesses are being done has totally undergone change. Therefore, our curriculum involves digital finance, digital marketing, business analytics, the creativity related courses because economy is becoming digital. So, if we do not have digital courses, naturally that course is incomplete and it is not making students ready for the industry.
Careers360: How do you think on-job-training equips a fresh graduate to handle the job better?
Shrimali: On-job training is THE requirement. Whatever you may do in the class, ultimately each industry has a unique requirement. Skills are always learnt by doing, so, more and more practice needs to be there. On-job-training with support of a mentor, guide or coach is an ideal situation and is a basic requirement to help the fresh recruits.
Stay tuned to university.careers360.com for more articles and interviews
Get real-time alerts on exam & colleges at your fingertips with Careers360 App!
Click Here to Install or Give a missed call on 08080944727 to get app link