How to Prepare for CUET Mathematics 2023 in 1 Month by Educart- The CUET 2023 exam will be held from May 21 to 31. Candidates who want to pursue mathematics in their UG programmes must go through the CUET mathematics syllabus to prepare well for the CUET 2023 exam. For those students aiming to take admissions in courses such as B.C.A., B.Voc, B.Pharm, B.Sc, BA, D.Pharm, B.Tech, etc. offered at the 90 participating universities, mathematics becomes one of the important domain subjects. Candidates must have a preparation strategy to get more marks in the CUET 2023 maths exam, and they should be familiar with the CUET mathematics syllabus.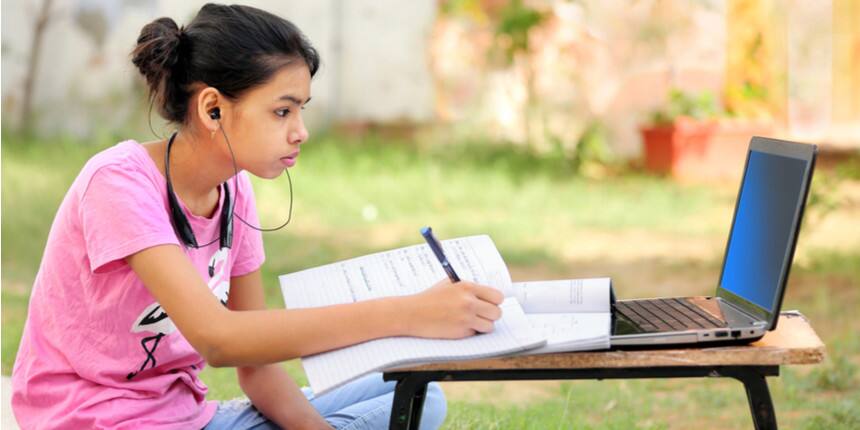 How to Prepare for CUET Mathematics 2023 in 1 Month by Educart
After reviewing all the CUET maths syllabus candidates should practise more problems in order to get a better understanding about the topics by writing mock tests. This article helps how to prepare for CUET Mathematics 2023 in one month by Educart in getting good scores in Section II Mathematics domain paper of CUET 2023 by providing them a clear roadmap for their preparation journey.
How to Prepare for CUET Maths 2023 in One Month
Candidates can check the step-by-step plan to prepare for the CUET Maths 2023 below -
Step 1 - Understand the CUET Maths 2023 Syllabus Properly
The students must be aware of all the topics belonging to the CUET 2023 Maths before diving into practice and revision part of the preparation. According to the CUET 2023 Maths syllabus, the complete (not reduced) Class 12 syllabus will be considered for the CUET UG 2023 exam.
For example, take a look at the venn diagram below and observe how the CUET syllabus fits within the major competitive exams students will appear for in the coming months.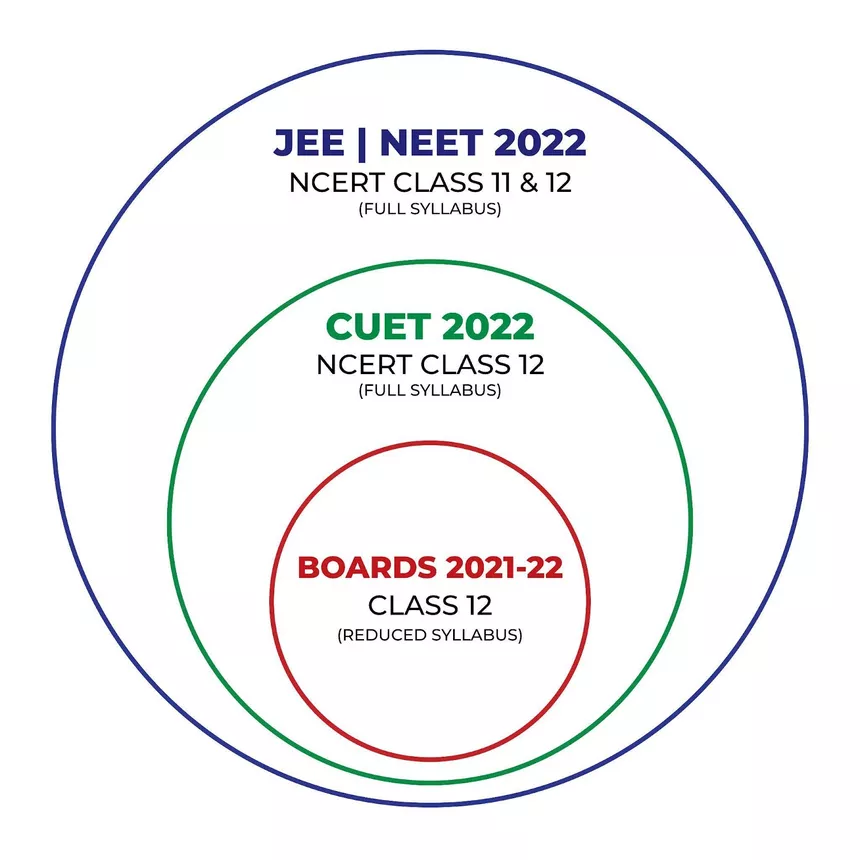 Representation of syllabus for Class 12 boards and major upcoming competitive exams
Clearly, students preparing for JEE/ NEET exams will cover the whole Class 11 and 12 syllabus, which makes it inconsistent and testing for the rest.
So, the first step is to figure out which chapters or topics are added for CUET 2023 in the NCERT Class 12 syllabus that has been reduced for all the boards. For this, we have compared and provided a roundup of all topics that should be covered (✔️) and not studied (❌) for IIT and NEET exams, and CBSE, ISC or UP Boards.

Comparison of all topics and sub-topics from the CUET 2023 mathematics syllabus
Candidates can check the chart for the complete CUET 2023 Maths syllabus - Click here
As you can see in this chart (of Class 12 Maths Unit 1), several topics were reduced in CBSE, ISC and UP board syllabus.
Some Key Points About CUET Maths Syllabus 2023
Vector Algebra and Continuity and Differentiability chapters are seen to have most of its topics covered by all major boards of Class 12. This means that the NTA experts may ask more questions from these chapters.

The same is applicable for the Relations and Functions chapter from which 60% topics were deleted by all boards, so there is less probability of seeing many MCQs from it in the CUET paper.

The topics with a tick (✔️) next to them are included in the CUET 2023 and are also available in the respective syllabus - CBSE, ISC, UP board.

The topics with a cross (❌) next to them are included in the CUET 2023 but are reduced from the respective syllabus - CBSE, ISC, UP board.
In order to avoid discrepancies, the NTA has provided a total of 10 choices in MCQs in the whole CUET exam, which means the students have to attempt any 40 MCQs out of 50. But there's a good chance that these MCQs will only be consumed in reduced topics, which means students may still not have enough choices. This puts students from ISC and UP Boards even at a bigger disadvantage than CBSE.
CUET aspirants should also check the chart of important chapters given below. It is prepared based on the NTA official CUET UG 2023 Maths mock test and previous 4 years CUCET papers (covering only Class 12 Maths syllabus).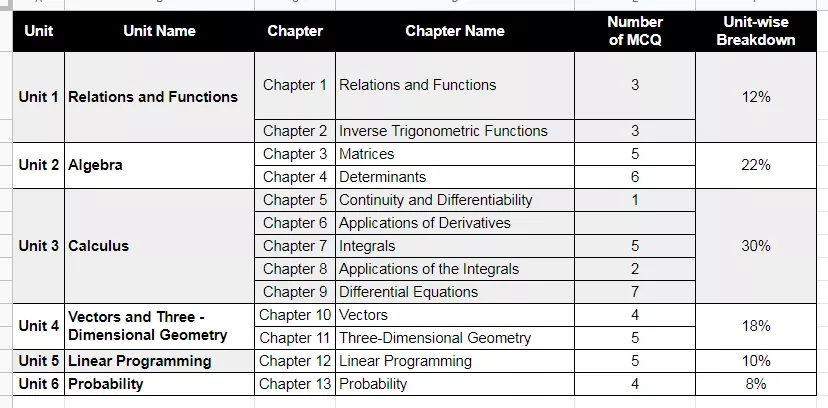 Breakdown of NCERT Class 12 Maths MCQs expected in CUET UG 2023
This chart is formulated to provide an idea of all the MCQs asked from each unit or chapter.
Important takeaways from CUET Syllabus Resources
Unit 3 solely comprises 30% of the CUET 2023 paper, which means all chapters in this unit should be a priority for students.

Other than chapter 7 from unit 3, equal time should be focused on chapter 4.

Students can skip studying a couple chapters like chapter 5 and 6 as there are hardly any MCQs asked from them.

To save your time, figure out if you are comfortable answering all the questions except case-based MCQs. You can choose to skip answering them since there is a choice for up to 10 MCQs.
Admissions Open at Lovely Professional University
Ranked #47 among Universities in India by NIRF, Highest CTC - 3 Crores
Enquire Now
Popular Online Arts And Crafts Courses and Certifications
Step 2 - How to Prepare for CUET Maths 2023 in 1 month: Chapter-wise Revision
Once students are done analysing the CUET 2023 syllabus, they can move on to dividing time for chapter-wise preparation. Given below are a few things that students must consider while setting up this schedule.
Chapter-wise Theory
Since, only around a month's duration is left for the CUET 2023 Maths exam, so instead of going through all the NCERT concepts, students should go for a visual option to recall them. For this, we have mind maps (see screenshots below) for every single NCERT chapter (including the deleted ones from board syllabus) that helps students revise -
All NCERT topics and sub-topics

Important points, definitions and theorems

All formulas to solve MCQs

How to solve MCQs with practice of examples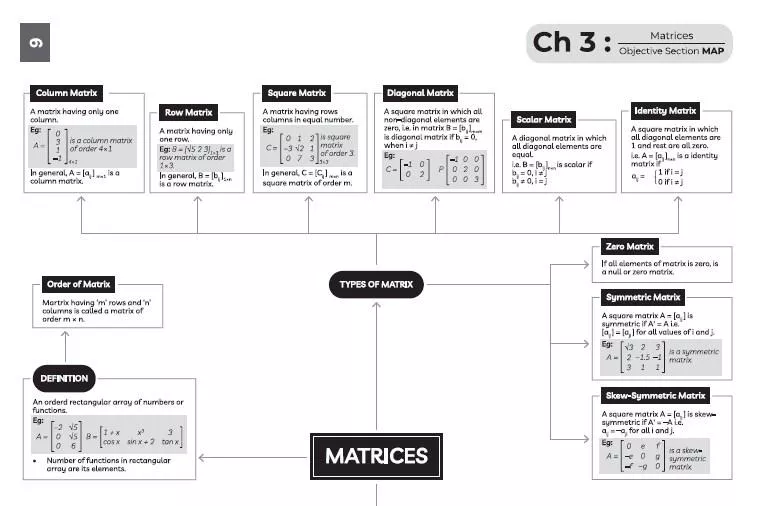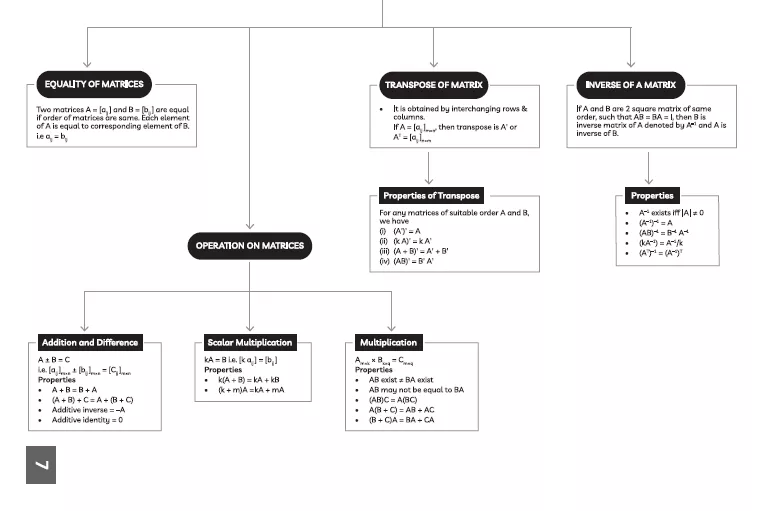 Class 12 Mathematics Chapter 3 Matrices Mind Map for CUET 2023
These visual maps are recommended because they are specifically designated to map out concepts for solving objective questions, i.e., MCQs for CUET 2023. Any new topic can be easily revised using these maps without having to read the complete chapter of the NCERT Class 12 Mathematics syllabus.
Chapter-wise Practice
Next thing you need to consider for setting up a realistic time table is a roundup and analysis of all the official resources available from NTA. We have figured out from the official NTA CUET mock tests 2023 that the paper pattern will be on a medium level. So, using NCERT Exemplars for additional preparation will be a safe bet because it covers all the NCERT topics.
MCQs per chapter from NCERT Class 12 Maths Exemplars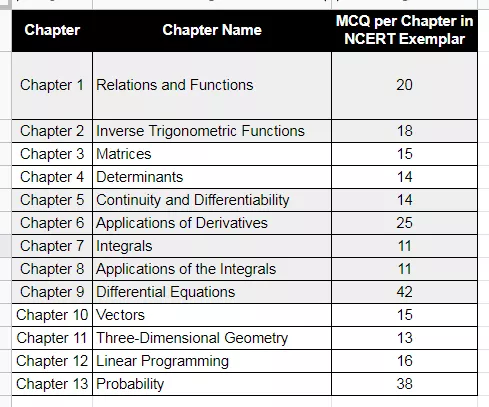 These questions include all different typologies of MCQs like match the following, assertion/ Reason, standalone, etc. that students need to cover for the CUET 2023 Maths domain paper.
Step 3 - CUET Maths Mock Papers On Exact Pattern
If you take a look at the CUET mock test paper below (provided in the CUET Maths 2023 Practice Book by Educart), there are different types of MCQs (standalone, statement-based, assertion/ reason, etc.) asked in the CUET exam now in comparison to the predecessor, CUCET.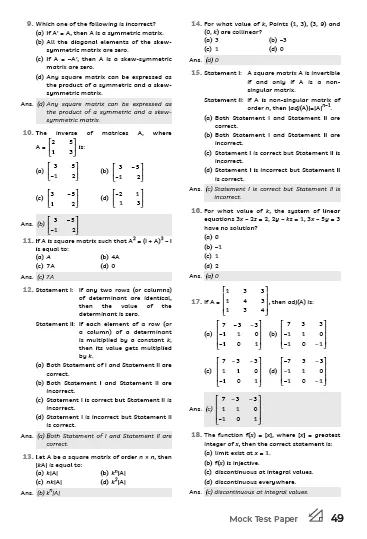 To practise NTA Official CUET 2023 Mathematics Mock Test by Educart (With Solutions) - Click here
For students to have a proper CUET 2023 preparation strategy, they should include two things – CUCET Mathematics past years' papers and CUET mock test papers (Solved and unsolved).
People Also See -
CUCET Past Year Maths Papers
Until 2021, CUET was known as CUCET, which was held once a year for 12 central universities only but on a similar MCQ pattern in CBT mode. By practising the CUCET 2021 Mathematics paper, students can get an understanding of MCQ type questions that were asked earlier. But a big challenge with these papers available online from other sources is that they were based on complete Class 11 and 12 syllabus.
The CUET 2023 Maths Practice Book by Educart includes these papers only with the relevant Class 12 topics and MCQs.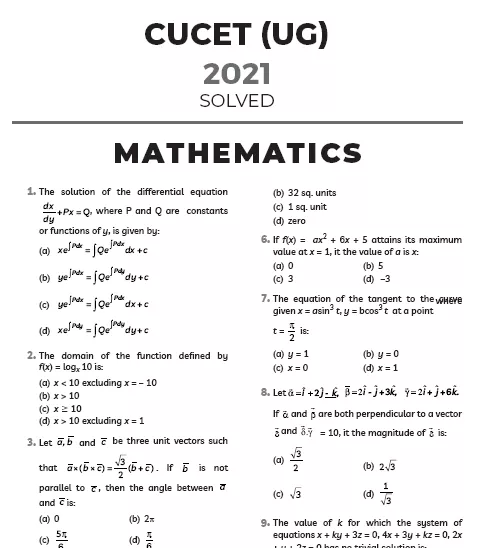 CUCET Official 2021 Mathematics Paper (excluding Class 11 MCQs).
CUET Maths Mock Test Papers (8-10 Solved and Unsolved)
It is good to have access to CUET 2023 mock test papers but it serves no purpose if they are not based 100% on the NTA official CUET mock tests. Students are recommended to practice solved and unsolved papers at least in the last 10-15 days of the CUET preparation.
Time management plays an important role for any examination. Students may get at least 1.5 to 2 hours time to attempt 40-60 MCQs for MCQ-based board exams like CBSE term 1 or ISC semester 1 exam. But for CUET 2023, they will only get 45 minutes to answer 40 MCQs.
In order to find a solution for this problem, we have designed a time management chart for CUET 2023 aspirants to try and attempt all MCQs in their paper before time so they can actually revise and review their answers.
Typology

Total MCQs

(5 marks each)

Time to be Spent

Stand Alone

35 MCQs

<1 min per MCQ

Assertion/ Reason

5 MCQs

1 min per MCQ

Choose the Correct Statement

Match the Following

Case-based

2Q

(5 MCQs each)

2 min reading time

+

1 min per MCQ

Total Marks

200

(40 out of 50 MCQs)

45 minutes
Time Management Chart for CUET Mathematics 2023
Student Also Liked: