How to crack CUET 2023: Tips, Strategy, Guide, How to prepare
How to crack CUET 2023? - The Common University Entrance Test (CUET) UG 2023 is a single entrance exam for admission to Central Universities and other participating institutions offering UG courses in the academic year 2023-24. In 2023, the exam will be held in two slots of 195 minutes and 225 minutes. Languages, Domain-Specific, and General Tests are the three sections of the exam. Candidates who will take the CUET 2023 must properly prepare for the exam in order to ace it. It is even more beneficial if the candidate receives learned instruction while attempting to self-study. It is critical to comprehend in order to properly prepare. As a result, one of the most frequently asked questions among students these days is "How to Crack CUET?"
Latest Updates for CUET (UG)
Stay up-to date with CUET (UG) News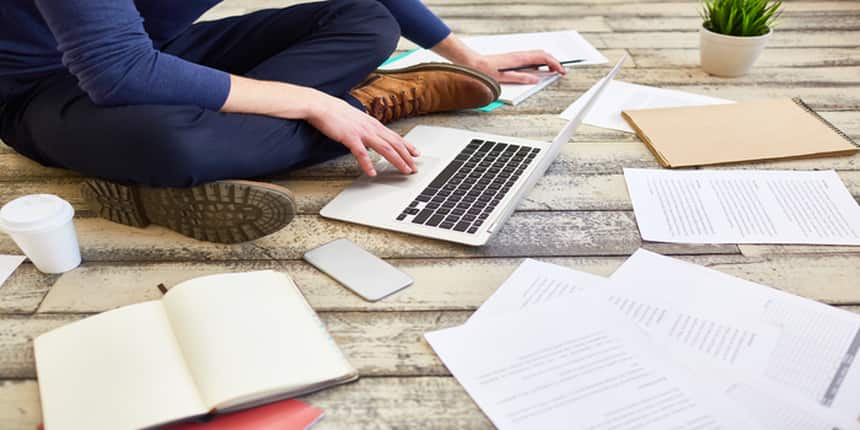 Here are some tips and tricks by experts to crack the Common University Entrance Test (CUET) 2023 at the first attempt.
How to Crack the CUET 2023?
Understand the syllabus

Check the exam pattern

Make timetable

Practice from sample papers

Practice from mock test

Stay motivated
Understand the syllabus
The next step is to become familiar with the CUET syllabus 2023. This will help you narrow down the topics you need to cover. Examine the importance and grades assigned to each piece of content. The CUET syllabus is the first topic to cover before beginning the learning process. You may be unable to differentiate between what to study and what not to study if you are unfamiliar with the syllabus.
Read more:
Check the Exam Pattern
CUET stands for Common University Entrance Test (Previously known as CUCET). Candidates seeking admission to UG programmes at participating universities should review the CUET 2023 exam pattern. On the CUET official website, they can find information about the marking scheme, exam duration, type of questions, mode of exam, and total marks in the CUET exam pattern 2023.
Make Timetable
Scheduling, when done correctly, can produce spectacular CUET results. For most students, however, creating a study plan is one of the most difficult tasks. Make time in your daily schedule to study for the CUET 2023 exam. At first, you can set aside 1-2 hours for the entrance exam and the rest for board exams.
Get a calendar and a diary
Set your priorities
Set out long study hours
Take care of your health
Don't sleep during study time
Get enough sleep
Practice from Mock Test
If properly planned, scheduling can yield spectacular outcomes. Preparing a study plan, on the other hand, is one of the most difficult chores for most students. Time for CUET 2023 exam preparation should be built into your daily calendar. You can allocate 1-2 hours for the entrance exam and the rest for board exams at first. Once your board examinations are completed, you can devote all of your efforts to the NTA CUET 2023 exam practicing CUET mock test 2023.
Read more:
Practice from Sample Papers
Aspirants who want to take the CUET 2023 exam should practise CUET 2023 sample papers to understand the exam structure and ace the exam. The CBSE Class 12 sample papers will be similar to the CUET sample papers 2023. According to the NTA mock test, the CUET sample papers will include case-based questions, assertion-reason incorrect statement-based, and table-based match the following questions for various domains.
Popular Online Arts And Crafts Courses and Certifications
Stay Motivated
Motivation is essential for overcoming any challenge, including an admissions exam. Think positively and consider how your admission exam performance can influence your goals and future. Seek professional assistance. Consult with professionals if necessary. It is critical to get enough rest and to plan your studies so that you can take regular breaks. During these times, one should pursue their hobbies and take a break from their routine. Students are also encouraged to get outside and spend time with family and friends. In addition to your determination to pass the CUET, you must maintain good health. Sleeping and waking up on time are critical in putting you on the right track to success.
Student Also Liked:
Important Tips for Revision of CUET 2023
Identify all of the issues that require your attention to be redirected.

Make a plan for covering such topics.

First, go over the topics in the subject that you find the most difficult.

Then you can go to Mock Papers. This will help you manage your time better.

Examine the question paper from the previous year to identify the main topics/questions.

Make an effort to comprehend the design of the paper.

Continue to review the topics where you excel until the exam.
NCERT books provide a solid foundation for CUET preparation 2023, but candidates should also keep standard study material specialised for the CUET exam on hand. The following are the best books for CUET 2023 preparation:
Subject

Books

Numerical Aptitude/Data Interpretation

Quantitative Aptitude for Competitive Examination by RS Aggarwal

English

English Grammar in Use by Raymond Murphy

Reasoning

Analytical Reasoning and Logical Reasoning - Arihant

General Knowledge

General Knowledge by Arihant

Disha's Rapid General Knowledge by Disha

Analytical Skills

Complete Mathematics by Lucent

Physics

Class 11th and 12th - NCERT

Concept of Physics Vol 1 & 2- H.C

Biology

11th and 12th - NCERT

Biology @ Your Fingertips by Rahul Cha

Integrated B.Sc (Hons) M.Sc/B.Sc/Integrated M.Sc in Chemistry

Graduation books for M.Sc




B.Sc in Geography




B.A in English




Integrated M.Sc in Environmental Science

Class 11 and Class 12 NCERT Books

B.A. B.Ed.

B.Ed. Entrance Examination Guide by R. Gupta
Frequently Asked Question (FAQs) - How to crack CUET 2023: Tips, Strategy, Guide, How to prepare
Question: What can be expected in the CUET 2022 GK and CA sections?
Answer:
Section-III includes GK and CA (General Test). A mix of Current Affairs (with a greater emphasis on events in the Indian subcontinent) and Static General Knowledge of relevance and importance is expected. For the general aptitude section, consult CUET books.
Question: Which section of the CUET Preparation 2023 is the easiest?
Answer:
This question has no fixed and rigid answer because each candidate has different strengths and weaknesses. Examine the updated CUET Exam Pattern. Section-I (Language) is expected to be the easiest section to score in when compared to others. Also, for students who have already prepared for the UG/BBA/IPM Aptitude Tests, Section-III (General Test) may appear to be the easiest.
Question: What should drop-year students and retakers expect from CUET Preparation 2022?
Answer:
Drop-year students should recognise that they have already decided to shift their career timeline back one year in order to achieve something they are serious about. As a result, they should be extra concerned with completing their drop year successfully so that they do not have to take another drop year.
Question: How many hours should a person devote to CUET 2023 preparation?
Answer:
Ideally, one should devote 5 to 8 hours to CUET 2023 preparation. This figure can also rise if one is preparing for a large number of domain subjects. It is determined by the CUET Syllabus for their specific domain.
Question: What should not be done during CUET preparation for 2023?
Answer:
During preparation, one must avoid becoming overwhelmed by the massive amount of content that is required to be fully prepared. Also, do not overestimate one's ability to pass the CUET exam.