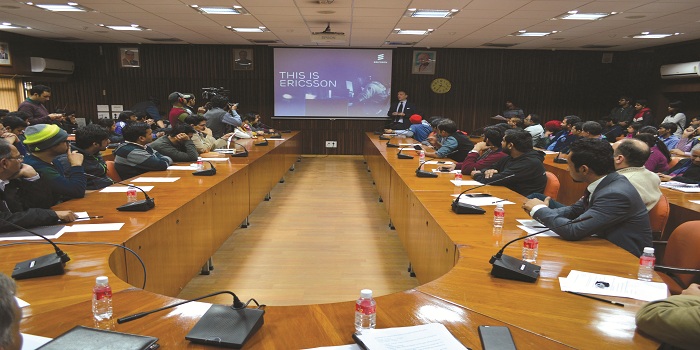 Dr. Pankaj Gupta, 30 Oct 2017
There is disconnect between industry and academia. Dr. Pankaj Gupta, Professor and Executive Director, O P Jindal Global University gives us a few insights on how this can be done away with in a mutually beneficial manner. Read on to know more.
There has been enough discussion on this topic as to how we can make our students industry-ready and how we may have symbiotic industry- academia connect? The academic institutions must ideally take the following key actions if the students are to become industry-ready.
Building long-term relationships
The academic institutions should focus on having a long-term and ongoing relationship with the industry, especially with the local industry. Ongoing and continuous engagement through 'board of studies meeting', guest lectures, live projects, summer and winter internships, industry visits, mentorship, research and academic collaborations, 'bouncing board interactions', consulting assignments etc. should be an integral part of academic ecosystem.
Faculty improvement
Enough attention should be given for training and development of faculty members. Faculty members should be provided with necessary incentives/disincentives to make sure that they spend at least 52 days in a year on 'industry engagement/attachment'. Faculty should be encouraged to do industry -relevant research and publications.
It is very important to win back trust and respect of the industry for which, a lot of relevant research and engagement of faculty in active executive education, training and consulting is a must. When the industry sees more value out of these associations, they come forward with more deeper and comprehensive relationships with those Institutions.
Industry-ready curriculum
Industry-specific cohorts can be created that engage in doing relevant research and contributing for creating focused industry-ready curriculum. A think-tank can be created comprising senior, middle and junior level of managers who can give a complete perspective regarding skills, knowledge and attitude, which needs to be nurtured in line with the industry requirements. Occasionally, guest talks and networking events should be organized so that industry persons keep on engaging with the students to minimize gaps.
Programme evaluation
Live projects, industry-focused dissertations and internships must constitute at least 30 percent of the total evaluation in a programme. These can be co-evaluated by academics and industry people but the industry person should have equal say (or weightage) in deciding about the marks/ grades. One publication should also be made compulsory. Thus the students will take their industry-related assignments very seriously and thus more value will be co-created for the industry.
Importance of mentoring
Faculty members should be mentored effectively to become 'gurus' so that they may have more awareness about their roles and the great possibilities, which they may co-create if they do their job with love, passion and full dedication. They should also be coached as to how they can make more money also (converting 'Saraswati-the wisdom' to 'Lakshmi-the money') in this process and grow higher in social status as well.
Personality development
The institutions should stop highlighting their placement success as the only 'real and tangible outcome' – rather they should be focused on 'holistic development of students', making them a 'complete and self-aware individuals', and focus should be 'transforming their inner being' as against giving them some 'tricks' to crack a placement interview.
What should be the key actions by the students?
The students must (be coached to) discover themselves early enough in their lives as to what seed of possibility they carry and what are their passion and ability? This will help them in finding and purusing right career path from the beginning itself. Work itself will become the play, which they will naturally enjoy and excel.
Individual Development Plans: They should know 'what is their inner nature' – 'swadharma' and 'what really inspires them in life' –they should be mentored effectively to excel in those areas of their passion. Individual Development Plans can be created for students through cohort model, which can generate concentrated passionate effort, which will yield substantial results.
Self-responsibility: Students should take self-responsibility for their placements – like 'Eklavya'. They must firmly believe that the 'buck should stop with them only' as it is a matter of their life and their career. Then many required actions such as integrating industry knowledge in classroom, asking relevant questions in classroom, arranging right guest lectures, doing further certification courses, doing some good MOOC courses, doing live projects and consulting, writing in newspapers , networking etc…all that will come naturally to those students.
Develop a professional portfolio: Students must focus on developing a professional portfolio adding testimonials, research papers and recommendations,.Adding industry-relevant certifications will help in improving employability and making them more industry ready.
Travel a lot: Students should try to travel extensively in India and abroad and try to attend summer and winter schools, so that their vision, thinking and experience get broader and make them better prepared for the industry in a globalized context.
Networking: Students must learn the art of effective networking with peers/seniors as well as on professional social media sites such as LinkedIn. Once they learn the art to build professional 'credibility and likeability', the jobs will follow naturally. It will also give them several professional insights, which they may use to be better prepared for the professional world.
Right Attitude: Students shouldn't be too anxious about future. They should know how to be fully immersed in 'present and now'. They should focus on developing their life skills such as managing their emotions, time, relationships, natural urges etc. In this regard, they must give good attention to their physical health and grooming and improving their 'inner being'. Engaging in mentally and physically relaxing methods like yoga, meditation and heart fullness can be useful to the students to transform their 'being' so that they are considered more employable and job-ready. If they focus on building capabilities with a 'restful attitude' (as against a 'restless attitude'), they will be always welcome in every industry.
Stay tuned to university.careers360.com for more articles and interviews