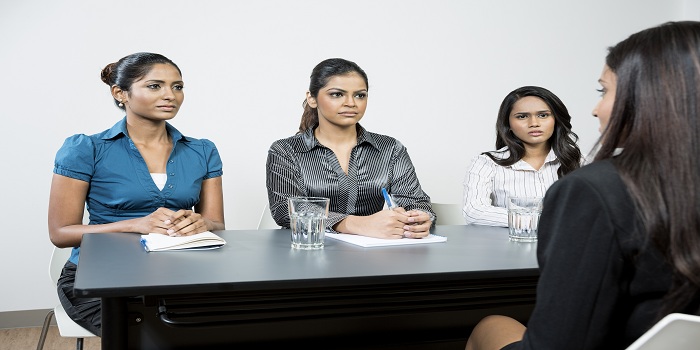 Shivani Manchanda, 31 Oct 2017
If you are preparing to face an interview to land that maiden job, here are some tips regarding those to reply to those frequently asked questions. Read on to know more about the important skills you should possess.
Your chance of making it big has finally arrived, yet the butterflies in your stomach refuse to calm down. All kinds of questions rush into your mind - what questions will they ask, how will you respond, what will you wear? A quick look in the mirror does not inspire you. You smile courageously and hope that your personal attributes will shine through in the interview.
The interview is your first personal contact with the employer and its importance is unparalleled. So let's take a closer look at all the attributes that employers give priority to and see if you can ace the interview and compete against all other aspirants.
Do your homework
Researching the company and the job requirements is one of the key preparations a candidate must do and yet many neglect the same. Before going for the interview, visit the website of the company –
What is the size of the company

What are its goals and mission

Key products, markets, major clients of the company

Press releases and company in the news recently
Then read the job description carefully so that you know exactly what it is looking for. Now look at your résumé, think about your qualifications, experiences and skills and see how best do you match the requirements of the company. The above knowledge will help you to demonstrate the interviewing panel that you have done your homework for the interview and you are a good match for the job. Preferably, have an elevated pitch ready for the interview where you could indicate your top skills.
Answering those questions
Considering the interview is the most human element of the process, you must be well prepared for the same. The important thing to remember is that a panel interview or an interview board is held to assess mostly your non-technical skills. The soft and the human skills are what are most likely to be assessed during the interview. It is important to know that personality traits like honesty, diligence, personality, communication skills, willingness to learn and ability to think are on every employer's wish list. So how do you project these in an interview session?
Wait for the questions: How you answer questions is as important as what you say. Wait to be asked the first set of questions. Look at the interviewer but in between briefly glance at others as well. While answering questions strike a balance between expansive and mono-syllabic sentences. It is frustrating for the interviewer if he has to draw out everything from you with extensive questioning. Answers in yes or no will not take the conversation forward. So if you are asked about your particular skill, instead of just saying yes or no, integrate an example of a situation. If your answer is no, then don't lie but you can mention a related skill with a quick example. Even though the answers need to be prompt, there is no harm in pausing to think before answering a slightly tricky question. Don't be argumentative. You can state your opinion and defend it – if need be. But leave at it so that you are seen as open-minded and respectful to somebody else's opinion in mind.
Frequently Asked Questions
What are your strengths?

What are your weaknesses?

Why are you interested in working for our company?

Why are you the best candidate for the job?

Where do you see yourself in five years?

What can you offer us that someone else cannot?

What are three things you would like to improve on?

Tell us about an accomplishment you are proud of.

Tell us about a time you made a mistake?
Some questions judge your opinion or knowledge about an issue. By supporting your opinion with factual information, you can seem reasonable.
Even though there are several typical questions, the interviewers are likely to ask random questions. Answer questions as naturally as possible and in conversational manner.
Making that first impression
1. Be ahead of time and maintain a calm composure before the interview. If there are other candidates smile at them but make small talk only if it makes you feel comfortable.
2. Choose well-fit clothes, appropriate to the job you are applying for. Trimmed nails and well-combed hair is important. Girls should avoid gaudy jewellery. Boys should ensure that the knot of the tie is perfect if they choose to wear one.
3. The whole idea about the job interview is to present a self-assured and a mature image. You want to seem relaxed, alert and confident all rolled into one. As soon as you walk in to the room, smile at all the panellists and wait to be invited to have a seat. Sit with confidence and place your papers on the table. Sit in a positive stance and put your hands on the table and look at the panel with a friendly smile. Don't fidget with your pen, documents or your clothes. Nothing reflects nervous energy more than the fidgeting. And perish the thought about eating pan masala, chewing gum etc during the interview.
4. Anticipate that the panel may ask for your documents either before or during the interview. Laminated certificates look neat and are easier to hand over. File documents in reverse chronological order as the interviewer may be more interested in your recent past. Well filed and organized folder will reflect your capability of taking care of your documents. Plus it will make it easier for you to take out a document if it is required – rather than rummaging through the whole file.
Projecting a sound professional image is what it's all about. So give an extra buff to your personality and see yourself saunter into the job!
Stay tuned to university.careers360.com for more articles and interviews