Career in Professional Courses: Visual Communication
Career in Professional Courses: Visual Communication - We bring you expert insights on Career in Visual Communication which is a passport to creative career.
Arvind Venugopal, a student of Film and Media Production, at New York Film Academy says, "Visual Communication to me was the first step into the field of visual media. The education gave me the advantage of knowing the basic principles that guide the field before I entered it." Arvind did BSc in Visual Communication from Madras Christian College, Chennai before going for further studies abroad.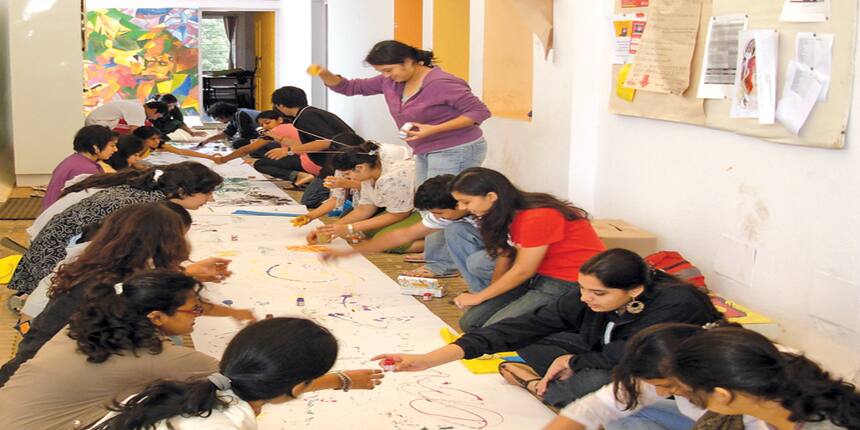 If you have a creative bent and want to make a career out of it, a degree in viscom maybe the choice for you. Chennai is the hub for learning viscom with maximum colleges offering the course.


Eligibility and admissions
Eligibility norms are not that tough. But most of the institutions look at whether you have to right aptitude. You should have finished 10+2 in any stream to be able to sit for the entrance exams, but your admission will depend on your marks in the qualifying examination. Most colleges have their own entrance exams and some colleges would even have an interview. You can check their website for details from March onwards. The fee structure is moderate to high. Some colleges have regular classes where the fee is low while in colleges where it is offered in the self-financing stream it's usually high. In Chennai, Madras Christian College offers BSc Visual Communication in the self-financing stream while it's in the regular stream at Loyola College.
Varied curriculum
The course is designed in such a way that various innovative theory subjects and fundamental practical subjects are integrated in a student-friendly mode. The curriculum followed by most of the colleges encompasses several media-related topics. It's not just about training you in commercial art or graphics. So you will be taught the basics of writing, journalism, photography, art appreciation, script writing, drawing, media research, computer graphics and a little bit of animation. Since you get exposed to almost all the tools used in media, you will be able to excel even in reporting or editing as a journalist.
Arvind Venugopal,
Student, Film and Media Production, New York Film Academy,
Alumnus, MCC, Chennai
Visual Communication to me was my first step into the field of visual media. The education gave me the advantage of knowing the basic principles that guide the field before I entered it. I was particularly interested in ad and feature filmmaking like many of my classmates. Hence I decided to venture further into those specific fields
It's hands-on
Unlike other degree courses, most of the curriculum is taught through hands-on training. All the colleges have media labs that expose the students to the nuances of the medium. The students get projects on photography, animation, videography et al that are evaluated and given credits.


"We were taught everything related to scripting and writing to film production. So I am better equipped to tackle any assignment compared to those who have a diploma in any one field," says Shyam Sundar R who did BSc Viscom at MCC, Chennai and is now a budding actor in Tamil films. As they reach the third year of the course student get internship opportunities for a month or two in media houses, advertising agencies and related fields.
Fast Facts

Programmes: BSc Visual Communication
Eligibility: 10+2 in any stream. Some colleges have entrance exams and a group discussion
Top Institutes: Loyola College: Chennai; Women's Christian College, Chennai;
St Joseph's College, Bangalore; Amity University, Delhi NCR (MA); Amrita School of Arts and Sciences, Kochi; Madras Christian College, Chennai
Career avenues: Journalism, animation, graphic artists, film production, advertising
Job roles Directors, actors and art directors in film industry; in IT field as web designers, computer graphics artists and animation personnel, interface designers; in the photography industry as photo journalists, advertising photographer, fashion photographer, industrial photographer and wildlife photographer
Career-wise
A number of entry-level jobs are available that give you pay cheques for Rs. 15000 and more per month. If your flair is for writing, then journalism could be your right fit. Students can get work as copywriters in ad agencies, or as television, web or print media journalists. Good photography skills and an impressive portfolio can get you a job as either a photojournalist or in magazines. A career in animation can be well paying, with experienced animators earning upward of Rs. 50,000. If you work in a cruise liner it could be above Rs. 1 lakh per month. "I joined as a travel photographer with Carnival Cruise Lines. The job is extremely satisfying as it entails a lot of voyages, visits to exotic locations. The pay package is the best in the market," says Jeshuran Jesudasan.
The UG programme envisions the scope of future and obviously the content encompasses everything to reflect the vast visual media landscape. Once the solid foundation is laid, creativity takes you to unimaginable heights of visual semiotics. One can decide whether to grow through experiential learning or crave for more domain updating
Dr. U. Krishnakumar
Director and Professor,
Amrita School of Arts And Sciences
Higher studies
You may land a job right after studies, but it is always advisable to go for higher studies and specialize in a particular area of your choice. Institutions like Amity University, Loyola College and University of Madras offer MSc programmes in Viscom. However, professionals warn you against getting carried away. It could be a hard grind for you if you want to become a film director. "Remember, even if you come from the best film school there is no one waiting to employ you. So how does on get there? There are a few ways. Firstly try to work with a director you like. This won't be easy because the director you like may have people already and none of them will want a new guy. So you have to keep going on and that depends on luck as well," advises Prathap Pothan, a well-known actor and director in the southern film industry.