Career in Data Science, Business Analytics, Big Data: The next powerful professions

Career in Data Science, Business Analytics, Big Data - With abundant of data being shared every second, a professional with skills to manage such information will be one of the most powerful resources in the coming days. So, how to make a career in these data related fields, be it Big Data, or Analytics, or the Data Science? Before talking about the career, we need to understand the concept of these– Big Data, Business Analytics and Data Science. Careers360 in conversation with Bhupesh Daheria, CEO, Aegis Business School, brings you every detail of the Career in Data Science, Business Analytics and Big Data.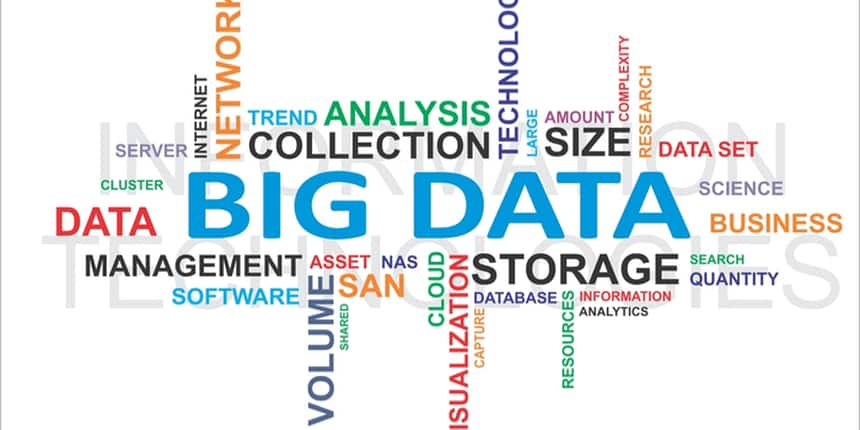 In this interview, the Aegis Business School CEO talks on how tools like data science and big data are churning out essential requirements for the market and bringing in consumer-satisfactory products. He also explains the difference between the three- Data Science, Business Analytics and Big Data even as he specifies details for each.
Read this interview of Bhupesh Daheria to know how to make a career in Data Science, Business Analytics and Big Data.
Interview Excerpts
Careers360: Explain the concept of Data Science, Business Analytics and Big Data.
Bhupesh Daheria: Ever wondered how Amazon's recommendation system understands your requirement and shows you relevant products which you may buy? How Shaadi.com shows you right matches? How banks detect fraudulent credit card transaction? Or how Swiggy, Ola or Uber function? How Facebook and Google serve you advertisement? How Google provides page raking?  All this is outcome modern field called data science and work is done by Data Scientists.
Data science is the practice of obtaining useful insights from data. Although it also applies to small data, data science is particularly important for big data, as we now collect petabytes of structured and unstructured data from many sources inside and outside an organization. As a result, we are now data rich but information poor. Data science borrows concepts from many fields like Statistics, Maths, Machine Learning, Natural Language Processing (NLP), Operations Research, Data Mining, Signal Processing, Linguistics, Database And Storage, Programming And Scientific Computing.
In a simplistic way, we can define Data Science as a science of making sense out of data for business, government, social enterprises based on structured, unstructured, small or large data. Data could be coming from emails, documents, IOT devices, video cameras, audio files, ERP systems or anything. Another interesting definition of Data Science is that it is about automating data science and perfect example could be recommendation system by Amazon, Flipkart or Snap deal. This gives you information about the relevant product recommendations out of millions of products listed on these e-commerce sites. Data Science uses machine learning and deep learning for making automated decisions and smart data products. Practitioners of this field are called data scientist. Data Scientist also provides dashboards and clean data to business analyst to provide business-ready insights without bothering much about the underlying technology and tools.
Whereas, Business Analytics making sense out of a business organization's data (marketing, sales, finance, HR, etc), relaying mainly tradition on statistical analysis which is taught at business schools. It typically deals will structured data to solve business problems. Insights provided by the business analyst are used by different business stakeholders to take data-driven decision combining their experience, strategy and guts. For example why this product launch failed or what will be sales in next quarter etc. Practitioners of business analytics are called business analyst. Usually, they come from operations research and management background.
On other hand, big data deals with a large volume of the data and creating data infrastructure to store and process it. Technologies like Hadoop and Spark has emerged as leading technology framework for the same. There are four dimensions of Big Data– Volume, Variety, Velocity and Veracity. Big data provides a basic infrastructure for data scientist and data analyst so they can get access to data for further analysis. Traditionally this job is done by IT professionals managing data warehouse.
Careers360: What are the notable differences between the three– Data Science, Business Analytics and Big Data?
Bhupesh Daheria: The traditional business analyst was trained to draw an inference or doing a prediction based on analysing structured small data, however, today's need is to analyse the large volume of the data, streaming data and unstructured data which are typical characteristics of Big Data. And the new breed of data analyst, called as Data Scientist is better equipped to do so. It is safer to say that Data Scientists are much more evolved form of Data Analyst and Business Analyst. They deal with the analysis of Big Data and create data products, automated data analysis tools, dynamic visualisation etc. It's where the Big Data lays down the foundation for both data science and business analytics in terms of data infrastructure.
Although there has been great attempt to separately define all these fields however there are quite closely related and very frequently used interchangeably. Large organisations in North America have somewhat clearly defined job roles for a Data Scientist, Business Analytics and Data Engineers.
Even large number of machine learning engineer jobs is actually data scientist jobs. Data Scientists in small and mid-size organisations are also doing the job of a Business Analyst. Now a days, people are hiring more Data Scientist compared to Business Analyst because anyways data scientist are doing the job of a business analyst. Data Scientists are supped to do the job of business analyst and some bit of big data as well.
Careers360: How has been the data a key player in the last decade? Can you cite the turning point when concepts like 'Data Science/Big Data/Business Analytics' emerged as the next powerful tools?
Bhupesh Daheria: This concept large-scale data analysis and data science gained prominence in early 2000 with growing adaption and reputation of the search engines and e-commerce companies like Google, ebay, Yahoo, Amazon which were started in late 90's. Then Facebook was launched in 2004 and subsequently in 2007 iPhone which further fuelled the mobile internet, smartphones and mobile commerce lead to exponential growth in term of users and data related to them. And all the company realised that they cannot find insight and pattern in a traditional way that is when the role of data science, Big Data came in the picture.
In the year, 2006, Hadoop was developed by Doug Cutting at Yahoo for managing the large data more efficiently, cheaply and data analysis at a faster speed without relying on server grade of hardware as it could run on commodity hardware. Later when it was donated to Apache foundation and the world was it magic. All major companies around the world jumped on Hadoop/Big Data bandwagon to monetise on the data without worrying about the licencing fee.
The title 'Data Scientist' was coined in 2008 by D J Patil and Jeff Hammerbacher, who back then were leads of data and analytics efforts at LinkedIn and Facebook respectively.  As they were doing a lot of large-scale data analysis work and data product development work which was beyond the traditional role of data analyst or business analyst so they coined Data Scientist word and crowed themselves with this new designation. In 2012 HBR published an article by Dr Patil and Thomas H. Davenport titled, "Data Scientist: The Sexiest Job of the 21st Century" which actually made this designation a mass cult and data science one of the most popular fields to study across the world.
Careers360: What is the current scenario of Data Science/Big Data/Business Analytics in the Indian context? How are these moulding themselves as a lucrative career option?
Bhupesh Daheria: According to a recent India Jobs study, data science is the fastest-growing field in India. As every company turns into a technology company, organisations in industries such as manufacturing, healthcare, retail, telecom, healthcare, oil and gas, manufacturing, airline, e-commerce, etc are all trying to grow as data-driven organisations. They are looking to strengthen their data teams. India is emerging as one of the world's largest data science capitals. India has a large number of people who have the knowledge of coding. That's how it's become quite a lucrative career in India. Every industry is hiring Aegis students. In every functional area, data scientists are required.
Careers360: What are the possible gateways to begin a career in Data Science/Big Data/Business Analytics fields?
Bhupesh Daheria: There are multiple ways where you can really start your career. However two ways are much more prominent: One structured master's program in these fields and second opt for MOOC course on various platforms like Coursera, edx, Udemy, mUniversity etc. The trend we are observing at the campus recruitment at Aegis that companies are paying much emphasis on what you can do for me than on what you know. They are evaluating students based on what challenging projects they have done which helps them to differentiate between two candidates.
Careers360: What special attributes should one have before pursuing a career in the field of data?
Bhupesh Daheria: Inquisitiveness, handwork nature, even if you do not know coding your willingness to learn and gain proficiency, a keen interest in academics as one has to study newer technologies, algorithms every day etc. Someone with good background of maths and coding adds an advantage. As these terms sound more of technology there is a wrong notion that only engineers can do data science. However real data from our class success tells something different story that even non-engineer and they are doing really good. It sounds like machine learning because in those very technical terms being used. You need to have domain knowledge also knowledge of coding. In our last campus interviews, a commerce graduate managed to get the highest package. 
Careers360: What are the possible challenges in this career field?
Bhupesh Daheria:There is a global demand for data scientists who have domain knowledge and applied skills in various areas like Mathematics, Statistics, Machine Learning, Deep Learning, Natural Language Processing (NLP), R, Python, SQL, SAS; Big Data tools like Hadoop and Spark, Visualization tools like Cognos, Tableau, Click View, etc.
Acquiring these complex skill sets take time and quite difficult. Tools and technologies can be taught in a classroom, however, domain and business understanding requires real-world experience.  While data scientists demand is growing at a rapid pace, Indian academia and industry are not equipped to fulfil the need. There are not enough teaching faculties available to impart knowledge.
One of the biggest challenges we have seen while training students that they get overwhelmed with the kind of learning they have to undergo. Poor understating of maths and stats applied nature is also another problem which is making most of the aspiring data scientist to learn machine learning at syntax level without understanding the math and stats behind the algorithms.
Careers360: How much rewarding are the professions in these specialised sectors? What is the growth graph in these career fields for next five years?
Bhupesh Daheria: The application of AI, ML, Deep Learning, Data Science is growing in India and around the world in almost every industry like Telecom, IT, Insurance, manufacturing, healthcare, banking, retail, media, consulting, e-commerce, oil, gas, automobile, airline, government, NGOs and start-ups and every functional areas like marketing , finance, operation, HR etc. There is a growing demand for solutions based on data science, machine learning and AI but there are not enough skilled people available to execute these projects skillfully and successfully. The fastest-growing roles globally are Data Scientists and Advanced Analysts, the demand for whom is expected to spike by 28% by 2020. Compared to the market average, it takes five days more for companies to find data scientists and analysts. Employers are willing to pay premium salaries for professionals with expertise in these areas.
Talking on remuneration, the salaries of Chief Data Scientists with over 10 years of experience in Mathematics and Statistics are at a minimum of One Crore, annually. Unicorn Data Scientist is the upgraded version of our racy data scientists but are a little hard to hunt and are compensated more than $200,000 per year. 
As India has the largest pool of people with math and coding skills, we are capable of becoming the world's largest hub of skilled Data Scientists. With updated curriculum and skilled faculty who has real time industry experience, Indian students can equip themselves to become leaders in the industry of data science.
Careers360: How is Aegis School of Business, Data Science, Cyber Security and Telecommunications contributing to the country with its specialised programmes?
Bhupesh Daheria: The Aegis School is committed to providing world-class education, consulting and research in fields of Telecom Management, Data Science, Big Data, Analytics, Cyber Security, AI, Machine Learning, Deep Learning, Cloud, Block Chain etc.
Aegis and IBM together played major contribution by creating awareness among 55,000 professional and students across the country by Aegis-IBM Meetups on these topics.
Aegis envisaged creating the talent-pool for bridging the gap by harnessing the potential for necessary skills required in the context of rapid technological advances. The traditional model of producing generic managers isolated from required techno-functional competencies are questioned in the new educational paradigm and industry need.
Aegis is dedicated to catalysing the competencies for new age Techno-Management Cross-functional Skills for New-age Leadership at the national and international arena. The evolving teaching pedagogy incorporating sound academic framework and continuous curriculum updates with an emphasis on applied problem solution make Aegis distinguished Institution.
Careers360: How does the exit plan work for those graduating out from the Aegis School? Which are the notable organisations which will be hiring the Aegis School graduates?
Bhupesh Daheria: Aegis graduating students are able to launch their career success in data science, analytics, big data and machine learning fields.  Aegis has a dedicated Career Management Centre, which helps the students to successfully transform their career into Data science, Big Data, Business Analytics & Cyber Security. Career Management Center (CMC) at Aegis facilitates all students placement and paid internship opportunities.
Aegis has a very strong alumni association and this proud aluminous of Aegis influence the relationship with the corporates.
The Companies to offer internship and jobs to our students include Accenture, Atos, Angel Broking, Cybage, edelweiss, HDFC, Ford Automotive, Fractal, IBM, Aditya Birla, Suzlon, Eclerx, Aureus Analytics, Deloitte, E&Y, Exponentia, Nielsen, Shaadi.com, Zensor, Clover Infotech, Value Direct, Virtusa, Credit Vidya, Shzertech, Loginext, Persistent, L & T Finance, Whizminds, Mii app, Mobiliya, Emmfer, Infrasoft, Impact Analytics, Eigen Technologies, Intelenet, Pentation, Light app, Ixsight, Softcell, Easy Farm, Free A Billion, Exponentia Data Labs, Open Insights, eClerx, Kryptoblocks, Bayer, Cuddle, Farebond, Cosmodea,  Karza, Loco Buzz, Kaara, Lexis Nexis, Icube, Data Fortune etc.