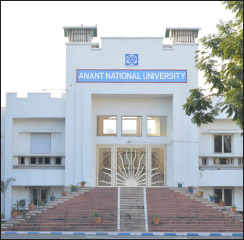 Anant National University (ANU), Ahmedabad has started application process for its one-year, post-graduate Anant Fellowship Programme. The Fellowship aims to nurture and empower solutions (revolutionaries with tangible, constructive, innovative solutions) who will take aspects like equity and sustainability into consideration while designing, developing, planning, and preserving the Built Environment of our country.

The Anant Fellowship is conceptualised in a unique manner to provide fellows both structured and unstructured time, immersion into theory and praxis, and paced and open-ended learning. There are four thematic tracks that run through the Fellowship - Domain and Technical Learning, Society and Cultural Immersion, Self Awareness and Leadership, and a year-long Live Action Project with potential for real-life impact. The last date for submission of first round of admissions is December 20, 2017. The second round of application closes on March 4, 2018.

Qualifications
Compare Colleges
College Comparison based on Courses, Placement, Rank, Fee
Compare Now
Students with a sound academic record, who have successfully completed an undergraduate or postgraduate degree.

The Fellowship is open to students from all backgrounds. Preference, however, will be given to students from the disciplines of architecture, design, planning, environmental sciences, civil and construction engineering, archaeology, heritage and conservation, and relevant social science disciplines of anthropology, sociology, history, geography, geology and other allied fields.

Students admitted must be able to show a demonstrated commitment to improving the Built Environment and an understanding of the issues pertaining to the area.

The Fellowship is open to students from all age groups, as well as to students and practitioners from across the world.
Admission and Selection Process
Resume, SOP, and Work Sample to be submitted electronically on or before December 20, 2017, for the first round of admissions and before March 4, 2018 for second round of admissions by submitting a complete application form available online.

Candidates shortlisted will be invited for two rounds of interviews. The first is telephonic interview followed by a personal interview. 

Those selected for admission will be automatically eligible for full and partial need based scholarship.

Students selected in the first round of application will be given the full scholarship.
Course Fees
Tuition, boarding and lodging to the tune of INR 10,00,000 will be provided as full scholarship.
Questions related to Anant National University, Ahmedabad