Established in the year 2008, Manav Rachna International Institute of Research and Studies (MRIIRS) Faridabad is a private co-ed institute. MRIIRS is recognised by the University Grant Commission (UGC) and has been accredited by the National Assessment and Accreditation Council (NAAC). According to the National Institute Ranking Framework 2022 ranking MRIIRS in the overall category is placed in the 151 - 200 rank band. The institute offers undergraduate, postgraduate and doctoral level programmes like B.Tech, B.Des, BCA, BDS, MCA, MDS, BBA, MBA, etc. Admission to MRIIRS Faridabad is offered to those who meet the programme eligibility criteria and appear for the MRIIRS admission process. MRIIRS Faridabad offers scholarships to eligible students.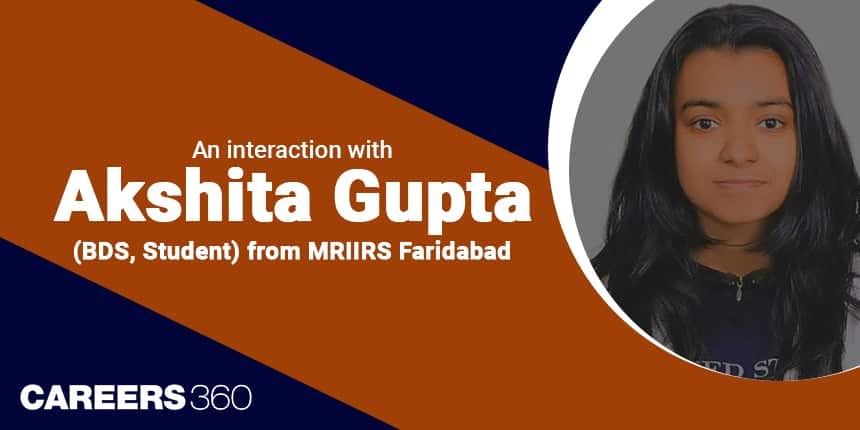 An interaction with Akshita Gupta (BDS, Student) from MRIIRS Faridabad
Careers360 brings you an interview with Akshita Gupta, Student at MRIIRS Faridabad. She is a final year Bachelor of Dental Surgery (BDS) from Manav Rachna International Institute of Research and Studies. In this interview, Akshita shares her experience of the college. What is student life like at MRIIRS Faridabad? How did she choose the Bachelor of Dental Surgery programme? And other things about the MRIIRS like admission process, courses offered, placements, campus life and more. To know more about MRIIRS Faridabad from a student's perspective go through the complete interview of Akshita Gupta.
Careers360. Tell us something about yourself such as from which place are you from?
I am from Delhi, India.
Careers360. Presently which course are you pursuing and in which year are you?
I am a 3rd year Bachelor of Dental Surgery student.
Also Read: MRIIRS Faridabad courses and fees
Careers360. Did you face any difficulty in the initial months when you joined the institute?
No, I didn't face much difficulty during my initial months here. Although, I could differentiate the school life with the campus life. All the staff and seniors are really helpful and kind. In no time everyone becomes a familiar face with a familiar smile. All you have to do is reach out.
Careers360. What activities are offered in the institute? Are there any clubs etc for the various extracurricular activities? Which ones have you taken up and are a part of?
There are a plethora of activities offered by the institute ranging from cultural to sports and much more. There are societies like AAIRA (fashion society), literary forum, music society SURTARANG, etc. all run by the DSW. I am not a part of any of the clubs.
See Also: MRIIRS Faridabad placement
Careers360. Describe a typical day at your institute – what do you do from the time you wake up till you go to sleep?
I wake up at 5, catch a metro by 6:15 AM, reach by 7:50 AM to attend lectures starting at 8:10 AM. A typical day in college for everyone starts near the hands figurine. From there we start dispersing to our respective lecture halls. Lunch break starts at 12:20 PM, the most awaited time of the day and lasts till 1:10 PM. Followed by lectures/ postings again till 3:40 PM. There are a lot of leisurely activities in between like going to the sports arena, food outlets like subway and Nescafé or just sitting in the central lawn. At 3:40 PM I commute to the nearest metro station (NHPC CHOWK). I return at 6 PM. I nap for half an hour, catch up with my family and then workout. At 8 PM I review what I had done today in the class and have dinner by 10:30 PM then I chat with my mother till we both fall asleep.
Quick Link: MRIIRS Faridabad admissions
Careers360. Tell us about the faculty-student ratio here and about the teacher-student relationship in your understanding.
The teacher student relationship is quite relaxed but it mostly depends on how a student presents themselves and how is their attitude towards the teacher. The faculty student ratio is well rounded and classes are not left unattended. There are multiple posts in every department: HOD, Reader, Lecturer and a tutor.
Careers360. What facilities do you have on campus? What do you like here the most which you feel is unique and differentiating?
The campus has all the facilities one would need to get by in life here. There's a golf cart to make travel easy in the campus, a beautiful central lawn really a treat for the eyes, good food outlets, shops to cater the needs of students from different courses. For example there's an inbuilt pharmacy for dental students so that purchasing equipment becomes easy.
Other Links: MRIIRS Faridabad facilities
Careers360. How comfortable are your hostels and how about the cleanliness factor over there?
I am not a hosteller but few of my friends are and according to them, the hostel is well maintained.
Careers360. What about the medical facilities? Can you avail requisite medical attention if needed in an emergency?
The medical attention is always at hand.
Careers360. How do you balance your studies, projects, exams and other activities?
It's all about how motivated you are and how you prioritize your goals. I try to pay as much attention as I can in the class. I keep project submissions for the deadlines as the sudden surge of motivation that I get at that time helps me get the work done. Practical skills reinforce what I learn during the lectures so, that helps me recollect things during exam period and revision becomes easy.
Also Read: MRIIRS Faridabad Reviews
Careers360. Tell us about the clubs and societies at the campus and how significant are they from your point of view or students point of view?
Clubs and societies in the campus are very relevant and play a significant role in the overall development of an individual. Anyone interested and having the potential can participate in these clubs.
Careers360. Is there any in-house magazine or journal for the latest events or happenings at the institute?
Yes, Dental Lamina and Campus Buzz
Careers360. What are the popular hangouts at the institute? What, according to you, are the most-visited places nearby?
Popular hangouts in my opinion are the sports arena, HM canteen. There are malls and food joints near the college which are a good place to visit for a quick getaway.
Careers360. How do you spend your leisure time at the campus?
I like to be around my friends or sit in the library.
Check This: MRIIRS Faridabad Q&A
Careers360. Do you have any Facebook page of your campus where the students express their views, jokes or ideas, or maybe even a blog where they write about their experience of life at campus?
I'm not on Facebook so I am unaware about that. There are a few of them on Instagram.
Careers360. What type of companies come for campus recruitment and what percentage of students get placed every year? How is the recruitment process here?
For Dental, recently there were visits from Clove Dental and Toothsi and few of my seniors got selected as well.
Disclaimer: This content was distributed by Manav Rachna International Institute of Research and Studies Faridabad and has been published as part of Careers360's marketing initiative.
Other Popular Institutes: