Amrita University Placement
Amrita University Placement 2019 - The Directorate of Corporate and Industry Relations (CIR), the department of Amrita Vishwavidyalaya Vidyapeetha which provides placements and internships to the university's students, is in charge of conducting Amrita University placement 2019. Amrita University offers attractive placement opportunities, especially for engineering and management, roping in companies like Samsung, Ford, Amazon, Dell, Infosys, EY, Blue Dart, Reliance, Nokia, Tata, and so on. Amrita University 2019 placement is ongoing and is likely to be conducted till March 2019. The university's placements department aims to bridge the gap between academics and the industry arena by initiating summer and winter internships, building a rapport with top companies by organizing visits, tapping on the alumni networks, providing special training to students, and so on. The placement at Amrita University 2019 is therefore expected to show a promising picture with competent industries employing an equally competent group of students from the university.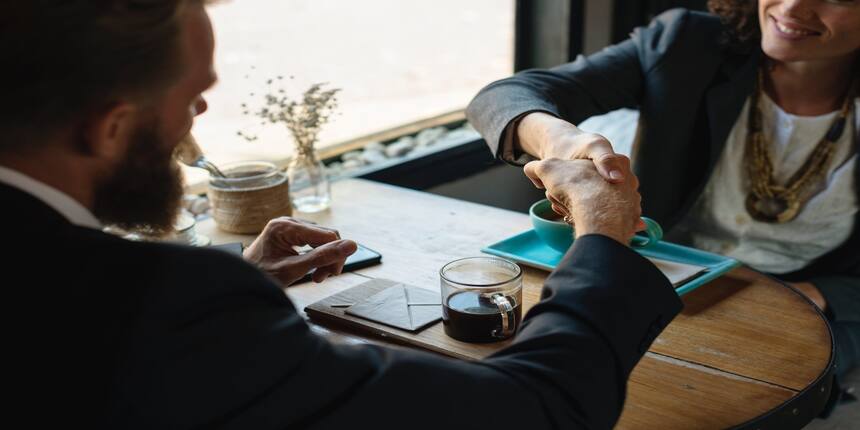 Amrita Vishwa Vidyapeetham offers a vast range of undergraduate and postgraduate courses like B.Tech., BAMS, B.Com., BCA, B.Sc. in Biotechnology, Microbiology, M.A. English, MTech, M.A. Philosophy, M.Com., MCA, MD, MS, and so. The university is spread across around six campuses located in Karnataka, Kerala, and Tamil Nadu. Amrita University placement 2019 is being conducted for all courses and campuses. 
In this page, candidates will find previous years' placements, leading recruiters with different schools of Amrita University, and so on.


Amrita University 2019 Placement - Highlights 
Given below is a glimpse of Amrita University placements covering the number of companies visiting the university, packages offered, the number of students placed, and so on, over the years. 
The university has been inviting 200 companies each year.

In 2018, over 95.32% were roped in by top companies for quality job profiles. 

In 2018, the average salary offered was Rs. 4.7 lakhs p.a. And the highest CTC was Rs. 29.63 lakhs. 

The highest stipend for internship stands at Rs. 1 lakh p.a.
Amrita University Placement 2019 - Engineering
Candidates will find here information related to process and planning of Amrita University 2019 placement and the previous years' placement reports for engineering. 
Process and Planning
Amrita University placements for engineering takes the following aspects into account and also adopts the following mechanisms to enhance the university's placement campaigns:
Amrita University plans to conduct summer and winter internships and final placements for students on a regular basis.  

It also strives to improve the quality of job opportunities and relevancy of the companies visiting the university and offer jobs with attractive salary packages. 

The university also plans to update and review placement policies. 

To better the quality of students, the university also aims at obtaining feedbacks from the recruiting companies to locate areas where they need to work on and skills they need to impart to enhance the employability of students. To achieve this aim, the university will also provide special training programmes to students to develop their skills.

By inviting CEOs, COOs, presidents of top companies to the university on a frequent basis, Amrita university also seeks to build a rapport with the top management of companies. 
Amrita University Engineering 2019 Placements - Highlights 
The 2017 report is as follows - 
30-35 companies from the product development sector visited the university.

Between 25-30 companies from the IT sector participated in the placements. 

There were 5-10 companies each from the services, automotive, business analytics, construction, finance/bank/consultant/marketing/telecom sectors.

The given table shows the percentage of placements undertaken by different campuses under School of Engineering.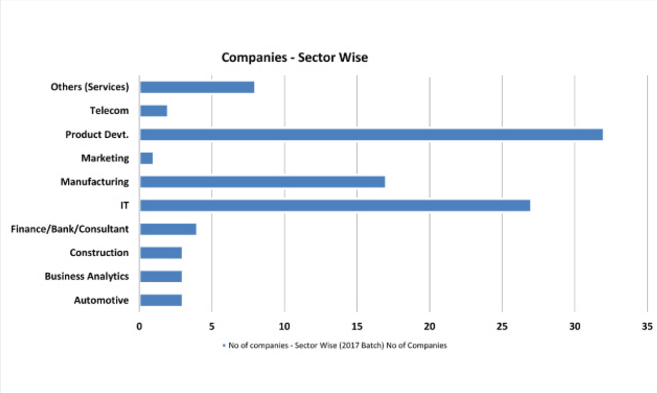 Image Source - Amrita University
Amrita University Placement 2019 - Campus-wise Percentage 
| | |
| --- | --- |
| Campuses | Percentages |
| Bengaluru | 95% |
| Amritapuri | 95% |
| Coimbatore | 95% |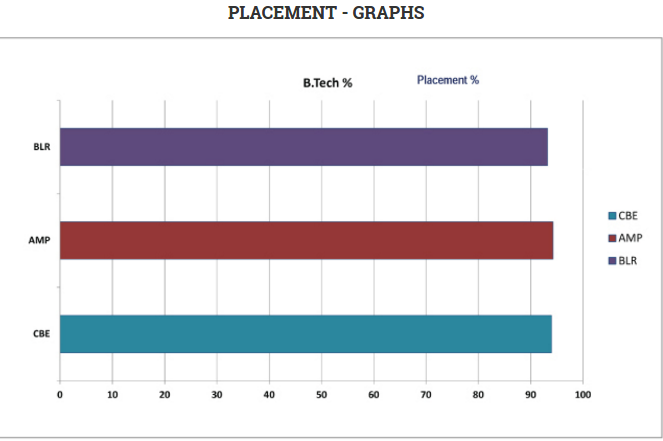 Image source - Amrita University
For M.Tech., there around 400+ industrial tie-ups including ISRO, DST/DRDO, DBT, NAL, etc.

The highest salary which was offered to M.Tech. students of 2018 batch were Rs. 16.50 lakhs p.a.

The highest stipend for internships for M.Tech 2018 batch was Rs. 55,000 per month.

Some students were offered multiple job opportunities (upto two). 

Placements, as well as internships, were offered in the following companies - CISCO, Oracle, Volvo, WIPRO, Honeywell, Cerner, TCS, Ingersoll Rand,, FireEye, GE Healthcare, EY India, AMD, Autolive, Nokia, Cummins, Toshiba, Ashok Leyland, Rockwell Collins, Sympantec, PwC, VMWare, Dell EMC, ABB, Philips, Intel, HCL Tech, Bosch. 
Amity University 2019 Placement for Management - Highlights
Candidates will find the placement report of Amrita University for the year 2017-2018 here. 
The university boasts of 100% placements in the year 2017-2018.

114 companies of repute visited the university. 

The average salary offered to students was Rs. 6.61 lakhs.

The maximum salary offered to students was Rs. 12.10 lakhs 

The highest salary was paid by Amazon.

Marketing and finance departments continued to shine with students offered triple and dual placements.

Over the years, 261 students were placed and offered high-quality and professional opportunities. The salaries of such students have also shown a significant growth over the years. 

The placement for Amrita University 2019 is also likely to be 100% with gratifying job profiles at prestigious companies on offer for students. 

In the following table, candidates will find the sector wise percentage of companies which participated in the placements at Amrita School of Business. 
Amrita University Placement - Sector-wise Percentage
| | |
| --- | --- |
| Sectors | Percentage |
| IT | 25% |
| Manufacturing | 18% |
| NBFC | 15% |
| BFSI | 8% |
| Consulting | 6% |
| FMCG | 5% |
| Education | 5% |
| Retail | 4% |
| Healthcare | 2% |
| Logistics | 2% |
| E-Commerce | 2% |
| Others | 8% |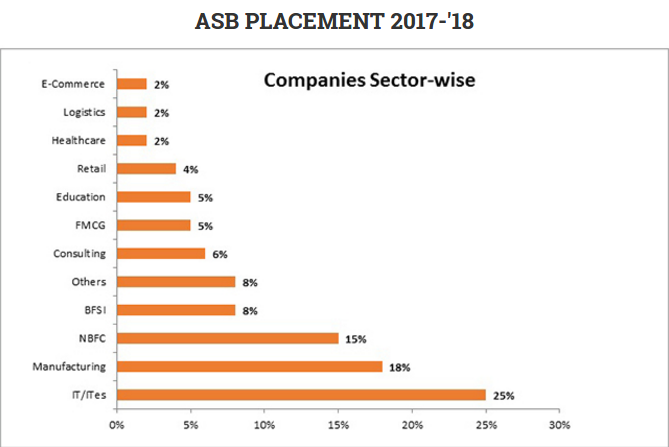 Image Source - Amrita University


Amrita University Placement - Leading Recruiters 
Given below are lists of leading recruiters with the different schools of Amrita University. The following companies are expected to participate in Amrita University placement 2019 as well. 
Amrita University Placement - School of Engineering 
Leading Recruiters

Accenture

Accord Soft

Aditi Technologies

Payoda Technology

Syndicate Bank

Agc Networks

Abco (The Advisory Board Company)

Amazon

Perot Systems

Tally Solutions

Aricent

Aricent

Asian Paints

Polaris Software

Tata Consultancy Services

Apollo Tyres

Atlas Healthcare Software

Bank Of Baroda

Prdc

Tata Advanced Materials

Beroe Inc.

Blue Dart Aviation

Blue Star

Quest Global

Tata Technologies

Bgr Energy Systems

Brakes India

Birla Soft

Qwest Telecom

Tata Elxsi

Biogenex

Caterpillar

Circor Flow Technologies

Rane Trw Steering Systems

Tata Autocomp Systems

Cisco Systems

Cognizant

Computer Science Corporation

Renault Nissan Tech. & Business Centre

Tech Mahindra

Cordys Software

Crompton Greaves

Cummins

Reliance Power

Technip India

Cvc Technologies

Defiance Technologies

Delphi Automotive Systems

Robert Bosch

Tesco

Dow Chemicals

Ecolab

Enercon Musigma Business Solutions

Royal Enfield

Thoughtworks

Ericsson

Essar Steels

Esab India

Safran

Titan Industries

Fenner India

Fidelity Business Services

Flowserve

Saggezza

Tismo

Ford India

Gmmco

Google

Sanmar Engineering Corporation

Toyota Kirloskar Auto Parts

Hcl Technologies

Hexaware Technologies

Hindustan Unilever

Sap Labs

Toshiba Embedded Software

Hindustan Motors

Honeywell Technology Solutions

Hewlett Packard

Saint- Gobain Glass

Tractor & Farm Equipments

Huawei Technologies India

Hyundai Motors

Ibm India

Samsung

Ucal Fuel Systems

Ibs Software

Inautix

Infosys

Sasken

Ust Global

Infotech Enterprises

Indian Oil Corporation

Ip Infusion Software

Schneider

Utc Aerospace Systems

Isro

Juniper Networks

Kla Tencor

Scm Microsystems

Verizon India

Ksb Pumps

Kpit Cummins

Larsen & Toubro

Shanthi Gears

Veesons Energy Systems

L&T Construction

L&T Integrated Engineering Services

L&T Infotech

Sobha Developers

Videocon

Leitner Shriram

Lister Technologies

Lms India Engineering Solutions

Siemens

Virtusa India

Lucas Tvs

Lucid Imaging

Madras Cements

Skanray Healthcare

Welset Plast Extrusions

Magtorq Design

Mahindra Engineering

Mahindra & Mahindra

Skava Systems

Wheels India

Mahindra Satyam

Mangalore Chemicals & Fertilizers

Maples Esm

Soliton Technologies

Winwind Power Energy

Marico

Microsoft

Microchip Technology

Sourcebits Technologies

Wipro

Mindtree

Mistral Solutions

Mphasis

South Indian Bank

Zensar Technologies

Mrf

Thermax

Mytrah Energy

Sundaram Fasteners

Zoho Corporation

National Instruments

Nest

Niit Technologies

Subex Systems

Syntel

Nokia

Nokia Siemens

Igate Patni

Symantec

Pace Micro Technology

Infotech Enterprises

Ire–tex Premier

Abb, Kuwait

Al Ansari, Oman 




Bin Dasmal, Dubai

Cape East, Abu Dhabi / Saudi / Bahrain 




Dolphin Imaging, California 




Golden Way Emw, Dubai 




Nsh Corporation, Saudi 

 

Prestige Engg., Sharjah

Qatar Steel, Doha 

Saud Bahwan, Muscat 




Uae Exchange, Dubai



To check the list of leading recruiters for M.Tech for each specialization, click here.
Amrita University Placement - School of Communication, Coimbatore Campus 
Leading Recruiters
Amrita TV
Asianet News
CNN IBN
Cognizant
Deccan Chronicle
GroupM
Indiavision
Jeevan
Reporter
The Times of India
Star Vijay 
Amrita University Placement - School of Biotechnology, Amritapuri Campus 
Leading Recruiters
Agilent Technologies
Anthem BioSciences
Biocon
Biogenix
Bristol-Myers Squibb
C-Camp
Cellworks Research
Dr. Reddys
Genentech
Indian Institute of Sciences
IIT Bombay
Piramal
Infosys
inStem
Life Technologies
University of Manitoba
NCBS
The University of Texas
Thrombosis Research Institute
TIFR
Unibiosys
Amrita University Placement - School of Social work, Amritapuri and Coimbatore Campuses 
Leading Recruiters
Abhaya
Alzheimer's And Related Disorders Society Of India (Ardsi) 
Amrita Tv Corporate Office
Amrita Institute Of Medical Sciences And Research Centre
Care Home For Disabled Children
Child Development Project Officer(Cdpo)
Government Juvenile Home For Boys
Kripa Foundation
People's Watch Kerala
State Poverty Eradication Mission (Kudumbashree)
The Richmond Fellowship Society (India)
The Banyan
Azim Premji Foundation
Friends Of Tribals Society
Hand In Hand
Adm Capital Foundation
Amrita University Placement - School of Business, Coimbatore Campus 
Leading Recruiters

99 Acres (Info Edge India Ltd.)

Abbott Pharmaceuticals

Abiba Systems Pvt. Ltd.

Acurus Solutions

Aditya Birla

Adrenalin eSystems

AFL Dachser Pvt. Ltd.

AgroEcom Ghana Limited - West Africa

Alchemists Ark

All Cargo Logistics

Allegis Group

Altius Technologies

Amagi Media Labs

Amazon

Amba Research (I) Pvt. Ltd.

American Express

Ample Technologies (P) Ltd.

ANSR Source India Pvt. Ltd.

Antal International Ltd.

AON Hewitt

Arohana Dairy Private Ltd.

Ashok Leyland

Asian Paints Limited

Aspire Systems

Axis Bank Ltd.

Bajaj Allianz General Insurance Co Ltd.

Bajaj Capital Ltd.

Bajaj Finance Ltd.

Bajaj Finserv Ltd.

Bank of Baroda

Barakat Vegetables & Fruits Co. (L.L.C.) - Dubai

BASIX

Berger Paints India Ltd.

Beroe Inc

Bharat Forge

Bharat Petroleum

Bharti Airtel Ltd. - TN & Kerala Region

Bin Dasmal Group - Dubai

Bindu Giri

Birla Sun Life Insurance

Biz Sciences

Blue Ocean Market Intelligence

Blue Star Ltd.

BNP Paribas

BNY Mellon

Bosch India

BOSE

Business Octane

Café Coffee Day Ltd.

CAMS

Canara Robeco

Canvera Digital Technologies

Caparo Engineering India

Capital First

CapitalVia Global Research Limited

Career Launcher

Castrol India Ltd.

CAT Products & Services

Cavinkare

CDJ Law Journals

Changepond Technologies Limited

Chargebee Technologies

Cholamandalam Investment & Finance Company Ltd.

CIEL HR Services

Circor Technologies

Citibank

City Union Bank Ltd.

CMA CGM Shared Services (I) Pvt. Ltd.

Cognizant Technology Solutions

Colgate Palmolive

Consul Consolidated Pvt. Ltd.

Copal Amba

CoreEL Technologies

CPF India

Crisil(Irevna)

Decathlon Sports

Deloitte Consulting (I) Pvt. Ltd.

Dexterity

Dhanlaxmi Bank

DSM India Pvt. Ltd.

Eastern Condiments Pvt. Ltd.

Eaton Technologies Pvt. Ltd.

Ecomzera Online Services Pvt. Ltd.

Emami

Envision Financial Systems

Ericsson - Kuwait

Ernst & Young

Essilor

Eureka Forbes

Extramark

Faber - Castell

Factset

Federal Bank

Fenesta

Financial Software Systems (P) Ltd.

FLIP

FloCareer

Floyd

Focus Academy for Career Enhancement (FACE)

Ford India Pvt. Ltd.

Forus

Fresh & Honest Café Ltd.

Frontier Business Systems

Future Generali India Life Insurance Company Ltd.

Future Group

Gamesa Wind Turbines Pvt. Ltd.

Gifting India

Glaxosmithkline Consumer Care

Global Cloud Xchange

Globals ITeS Pvt. Ltd.

GMMCO

Godrej & Boyce

GoFrugal Technologies Pvt. Ltd.

Golden Hills Capital India Pvt Ltd

GREedge

GroupM

GVK EMRI

Happay

Havells India Ltd.

HCL Infosystems Ltd.

HCL Technologies Ltd.

HDB Financial Services

HDFC Asset Management Company Ltd.

HDFC Bank

HDFC Limited

Heritage

Hexaware

Hidesign India Pvt. Ltd.

Hiland Realty Pvt. Ltd.

Hindustan Coca Cola Beverages Pvt. Ltd.

Hindustan Times

Hindustan Unilever

Home First Finance Company

HSBC

HSIL Limited

HyperThink Systems Pvt. Ltd.

Hyundai Construction Equipment India Ltd.

IBM

IBS Software Services Pvt. Ltd.

ICICI Bank Ltd.

ICICI Prudential AMC

ICICI Prudential Life Insurance Company Ltd.

ICICI Securities Ltd.

IDBI Bank

Idea Cellular Ltd. - Kerala, TN & Karnataka Region

iDiscoveri

Idli Dabba

Ikya Human Capital Solutions Pvt. Ltd.

IMRB

IMS Learning Resources

Inautix Technologies India Pvt. Ltd.

Indegene Lifesystems

India First Life Insurance Company Ltd.

India Infoline Finance Ltd. (IIFL)

Indiamart

Indian Bank

Indian Oil Corporation Ltd.

Indus Software Technologies Pvt. Ltd.

IndusInd Bank Ltd.

Infinity Research

Info Edge

Infosys Technologies Ltd.

ING Vysya Bank

Inpods

Integrated Assessment Services

Intelenet Global Services

ITC Limited

Jamboree Education Pvt. Ltd.

Jaro Education

Johnson & Johnson

Jones Lang Lasalle

Jyote Motors

Kadence International

Kansai Nerolac Paints Ltd.

Kartavya Healtheon

Karur Vysya Bank

Keymind

Khazana Jewellery Pvt. Ltd.

Khimji Ramdas - India

Khimji Ramdas - P & G Division - Oman

Kotak Life Insurance

Kotak Mahindra Bank Ltd.

KPMG

KPR Mills

Madras Cements Ltd.

Mother Dairy Fruit & Vegetable Pvt. Ltd.

PUMA

KPMG

Naukri.com

Neeyamo Enterprise Solutions

Nestle India Ltd.

NetElixir

Landmark Group

Liberty Videocon General Insurance

Thomas Cook

McKinsey

Netpace Inc

NewAgeSys Solutions (P) Ltd.

Nielsen

Nomura

OMNEX

Oracle

Philips Electronics

Photon Interactive Pvt. Ltd.

Pine Labs Pvt. Ltd.

Punjab National Bank - Metlife India Insurance

Qatar - UAE Exchange

QBurst

Reckitt Benckiser

Redington India Limited

Reliance General Insurance

Reliance Money

Royal Bank of Scotland

Royal Sundaram

S&P Global

Robert Bosch Engineering and Business Solutions Ltd.

SBI General Insurance

Seagate Technology

Shoppers Stop Ltd.





Saint-Gobain Weber India

TAFE Ltd.

Tally Solutions

TATA Communications

Tata Consultancy Services Pvt. Ltd.

Union Bank of India

Verto Mobility Management Services Pvt. Ltd.

Videocon Industries Ltd.

Vodafone - TN & Kerala Region

Wipro Consulting Services

Wipro Infotech

Wrigley

Writer Corporation

Zimyu Foods Pvt Ltd. - "SNALTHY"

Zoho Corporation Pvt. Ltd.

Zydus Cadila

TATA Steel

WaterHealth (I) Pvt. Ltd.

Wheelhouse

Wildcraft

Wipro BPO

TATA Motors

Soliton Technologies Pvt. Ltd.

South Indian Bank Ltd.

Spandana Sphoorty
Amrita University Placement - Amrita School of Education, Mysore Campus 
Leading Recruiters 
National public School (NPS)
GSSS
Kautilya Secondary school
St' Joseph's Secondary school
DePaul Public School
St' Francis Secondary school
Jnanodaya Public school
Royal Concorde International School
Bharatiya Vidya Bhavan and 
 Amrita University Placement - School of Arts and Sciences, Kochi Campus 
Leading Recruiters - Computer Science, IT and Mathematics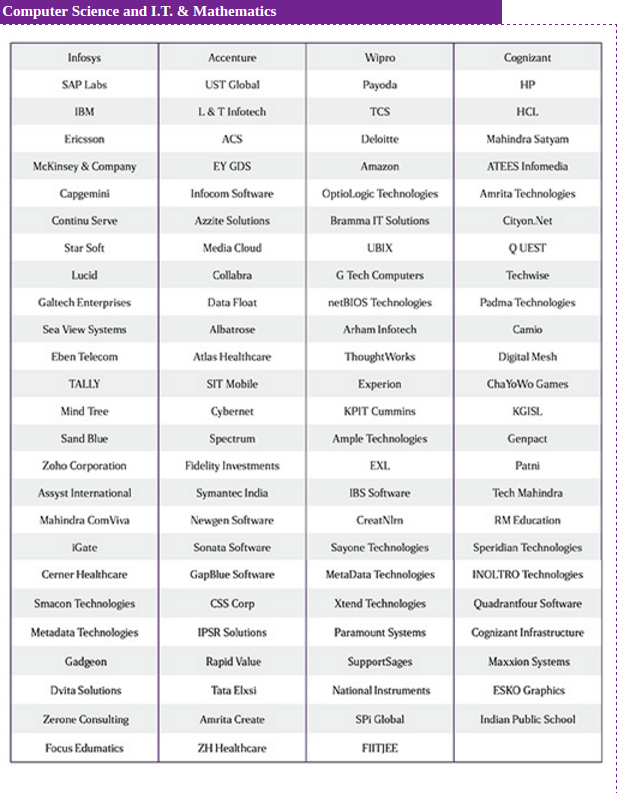 Leading Recruiters - Commerce and Management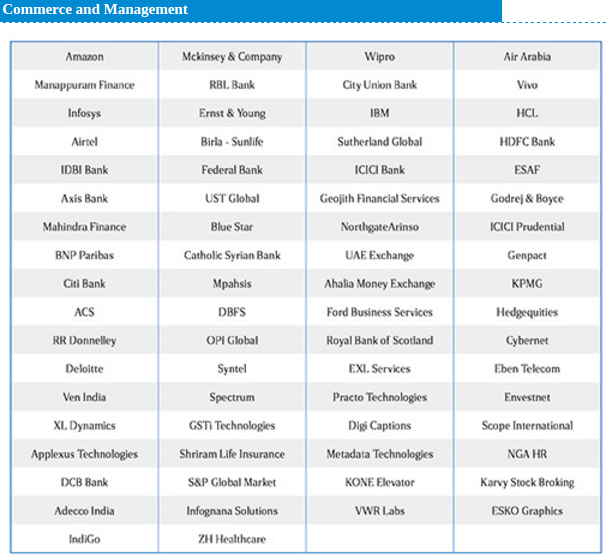 Leading Recruiters - Visual Media and Communication and English and Languages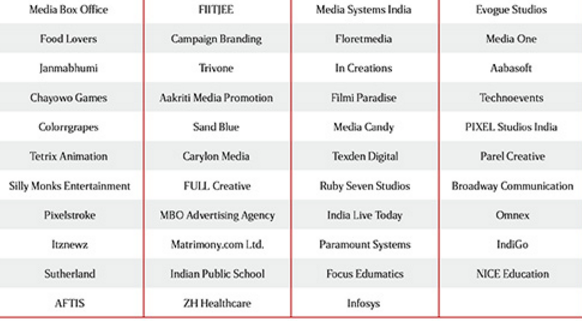 Amrita University Placements - School of Arts and Sciences, Mysore Campus 
Students from 2017-2018 were offered around 360 placement opportunities from various companies including the following.
Leading Recruiters
HCL
HP
IBM
Infosys
IBM
Pearson English
SAP
Wipro
TCS
TechMahindra
UST Global
Cognizant
*The reports for Amrita University 2019 placement will be put on this page once they are officially released by the university. 
amrita college Updates and Articles
Questions related to amrita college
Showing 141 out of 141 Questions