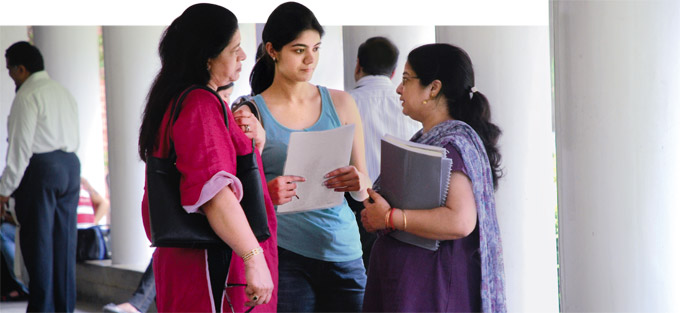 The cut-off for getting admission in BA Economics (Hons) at Delhi University's Shri Ram College of Commerce is an astounding 100.75%. The irrational cut-off has left even students in the 97-98% percent bracket high and dry. The absurdity of cut-offs in Delhi University might be an exception, but in general, cut-offs have been heading north for quite some time and for quite a few programmes.


Each year, Careers360 gets thousands of anxious parents trying to figure out the right course or college for their wards. To ease the process, we put together a set of questions that most students seek answers to, and asked experts to answer them.
During the admission, most of the student queries fall under two categories.  The first set of questions is: I got admission here? Is it worth it? Is there a scope for me? The second set is: I did not get admission here. What should I do now?  We have attempted to deal with both the questions in the subsequent pages. But there is a set of issues that students must be aware of.
Seats are not a concern
Thanks to the diverse admission process and schedules, each institutions also makes it a point to inform the student that seats are extremely limited. The obscene cut-offs by some colleges do add to the myth.  What is true is the fact that while the number of seats in select elite institutions in Delhi like SRCC, St. Stephens etc. have remained constant, the number of aspirants have been consistently going up. Hence the cut-offs too have hit stratospheric sphere.
But the overall seats scenario is not bad at all. Nearly 8.2 million students sit for 10+2 exams. With the pass percentage varying from 55% to 93% for different boards, one would assume a 70% pass rate. So about 6 million-plus students seek higher education each year. Engineering as a domain alone provides over 2 million seats each year.
Medical is woefully inadequate at about 0.05 million. With over 35,000 colleges, the Arts and Science streams offer another 3.5 million seats. The 250-odd private universities offer about 0.5 million seats. Other professional courses will offer another 0.5 million seats. In all we will have about 6 million.
So at the macro level, each student does have an opportunity to pursue a course. However, the difficulty lies in pursuing a course of one's choice at the college that he or she prefers. It is indeed a difficult choice.
Nandita Narain
Professor,
St, Stephen's  College


Delhi University has not kept pace with growth in the student populations. We have not opened up new colleges. As the number of aspirants rise, cut-offs are bound to go up
Is there a winning course?
My daughter, wanted to do MBBS. Unfortunately, she could not qualify. Now she is looking for alternatives. What is the best course that will give her a good career? One of the parents asked our counsellors. What is the scope for this course? Will my son get  a good job with nice pay? These are some of the variants of the same questions lobbed at us. All of them are valid, and considering the fact that the cost of education is so high, with some courses costing over 20 lakhs rupees to complete, return on investment is very high on the agenda of the parents.


But barring a few professional courses, it is impossible to predict and comment upon the value or scope of any course. Especially when the course is from pure sciences and humanities. For that matter, defining the scope of a professional degree like Engineering is getting difficult. With the advent of IT Services industry (which incidentally is the largest employer), engineers from all branches, even exotic branches like Metallurgy or Robotics, could end up being code writers at Infosys or TCS.
The answer to the question is the scope that you make out of a course or a programme. Education invariably equips you with a curious knowledgeable mind and provides you a set of tools and concepts to navigate the world.
Journalism for example, is a wide-open career, welcoming professionals of all kinds into its fold. A way with the language, a nose for facts, and an ability to sniff out a good story is all that is required to excel in this field. So students of English, Psychology, Engineering and Medicine could all enter the domain. There are 'n' number of domains like journalism that are not education-specific.  
Does college matter?
The short answer is "it does". But only to a certain extent. Elite colleges like St. Stephen's provide a candidate with an enviable peer group, a fantastic alumni network and substantial opportunities to excel. So admission in a great college is definitely a good launch pad. But that window of opportunity is extremely limited. A recent study of over 14,000 graduates in the USA conclusively proved that the course you studied matter much more than where you studied in terms of earning potential. So if you get admission for the right course, in a slightly lesser known college, go ahead.
Be aware that the first job opportunity is easier to come by when you pursue a programme from a top-ranked college. So when your degree is from an unknown college, that opportunity would be hard to come by. You will have to fight for earning your job. Follow the advice provided by  career counsellor Shivani Manchanda elsewhere in this edition on how to make the most of your options. The world is full of achievers who hailed from unknown colleges. The biggest entrepreneurs like Steve Jobs and Bill Gates did not even complete a graduate degree. So don't fret too much.
How to decide?
As Prof. Kaustoub Ganguly, Associate Professor at SRM University says, one needs to keep one's options widely open, especially at the undergraduate level. So if you are not able to decide amongst careers, keep your options as wide as possible. Some level of elimination automatically happens when one chooses a combination of subjects at the 10+2 level. So one way to ease the process is to keep identifying careers that one is not interested in or would not like to do. So if you hate numbers, maybe CA is not an appropriate career for you. If you can't stand the sight of blood, MBBS will not work for you. So start eliminating careers at each stage of decision-making, so that the options get narrowed. The final choice of career is a function of the opportunities that present themselves before you at each stage of your life.
As Steve Jobs, the founder of Apple, said in a famous commencement address at Stanford University, "You can't connect the dots looking forward; you can only connect them looking backwards. So you have to trust that the dots will somehow connect in your future."
Hence the important thing is not to fret too much about missed opportunities. If you don't get in the top college, the most wanted course, it is okay. As long as you do your best when whatever opportunities come your way, constantly seek those opportunities, and do your level best, it mostly works.
So, choose with care. Do well! 
Enroll ment Status 2012-13

Arts/ Humanities/ Social Sciences (3 years)

9576467

Engineering & Technology (4 years)

3845962

Commerce (3 years)

3420088

Science (3 years. Very few, 4 years)

2966690

IT & Computer (3 years)

968381

Medical Science (MBBS)

675183

Management

516276

Law

223132

Education

729994

Oriental Learning

109038

Agriculture

130496

Other

376295
Pass out Status 2012-13

AGGREGATE

5928857

Arts/Humanities/Social Sciences

2451582

Engineering & Technology

607115

Commerce

889329

Science

764230

IT & Computer

246640

Medical Science

178459

Management

138735

Law

62846

Education

407312

Oriental Learning

56917

Agricultural

21937

Other

103755
Compare Colleges
College Comparison based on Courses, Placement, Rank, Fee
Compare Now